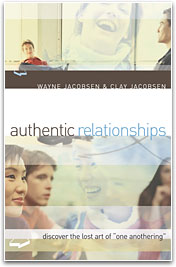 First a personal note. We had an incredible weekend that first began by meeting with the people who most carry our lives and this work on their hearts. Then we met some new people in the Clovis area who are freshly on this journey of living loved and escaping the legalistic conditioning of their past. Folks came from as far away as Sacramento, the east bay of San Francisco, and Ventura County. I really resonated with the hearts we met with this weekend. Then yesterday we finished up at a community church near here that needed a substitute speaker yesterday. In so many ways this weekend was filled with great joy.
OK, it isn't really forgotten, but I get so much about He Loves Me and So You Don't Want to Go to Church Anymore, that it is fun to hear with people connect with Authentic Relationships as well.
This morning someone sent me a link to a new review of Authentic Relationships and I thought some of you might enjoy reading it. To me, this book is the horizontal application of He Loves Me. Knowing we are loved by God allows us to explore relationships with others in new ways. No longer so self-centered on our own needs and coping mechanisms, we can truly begin to love others and watch those relationships grow into wonderful friendships that can last a life time. We tried to describe a process here where real friendship can grow over time, instead of push people to manufactured relationships.
Of course there is a downside to relationships as well. Not all survive. It certainly takes the commitment of two people to have a relationship grow through the pains, misunderstandings, and struggles of real life. This week's podcast deals with the reality of good relationships going bad. For various reasons not everyone has what it takes to get through the rough days to find that the greatest gifts