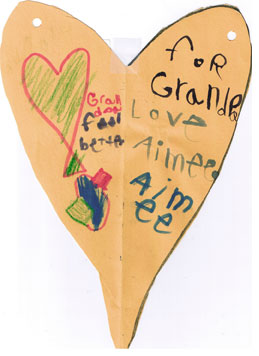 I don't generally deal in Christmas thoughts, so consider this a rarity.
Yesterday morning I was a pretty sick puppy. My daughter, Julie, had come to bring our granddaughter over for Sara to watch while she volunteers a few hours at her older child's kindergarten. When she got to school she told Aimee that Grandpa was pretty sick. Aimee felt bad for me. Later, Julie noticed Aimee feverishly working at the craft table during some of her free time. My daughter wondered could she be doing with such intensity. When she went over to look, Aimee told her that she was making a card for Grandpa because she wanted him to feel better. Did I ever!
My daughter brought the heart-shaped, orange card to me after school when she came to pick up Lindsay. She told me the story of Aimee thinking up the idea and making the card on her own. Amazing. I stood in awe that my granddaughter in the midst of her school day would even think to try to make me a card. The drawings on it and the plea to "Grandpa, feel better," touched a deep place in my soul. Tears of absolute wonder and joy began to pool in my eyes. Of course, I would get better. Aimee wants me to.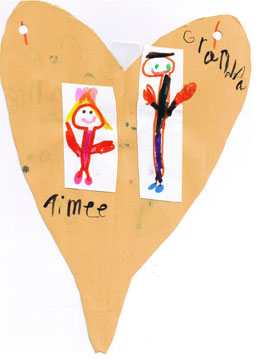 You can see the front and back of her card here. You couldn't sell this card in any store in America, but Hallmark has never printed the card of more exquisite beauty or more touching a message. You see, it is not the quality of the card that defines the one who gives it. It's the quality of the one giving it that brings beauty and meaning to the card.
I think the same is true of our lives, especially in relationship with God. Religious obligation led us to believe that our worthiness to God derived from the quality of work we can do, the gifts we can give, or the heights we can achieve. Jesus taught us something different. Because we are already special to God, even our most immature and faltering attempts bring great joy to his heart. The gift doesn't qualify the giver; the giver qualifies the gift.
That's why Aimee's card is a treasure to me. It represents the best gift she could give at this stage of her life and growth. I'm sure a card she'll give me when she's 15 or 24 will look quite different indeed. They will be special in their own way as well, but how could they be more special than this one even if the artwork is better, the cut lines cleaner, or the handwriting more fanciful?
By the same token I've known husbands to give extravagant gifts to their wise as a substitute for not loving them over the course of the day. Because the life it comes from is empty, so is the gift even if it is costly. It's how we live and love that matters most, to God and others. It's not the size or cost of the gift we bring; it's what it expresses about the life behind it.
I will treasure this card for a long time! It has six-year-old Aimee pouring out of ever cut, letter, and sketch. It connects me to the one I love so deeply and with whom I share a wonderful grandpa-granddaughter relationship. When I see her card it warms my heart with her love, and it reminds me that God's not evaluating today how good my efforts compare to anyone else's. He's just thrilled that they celebrate the growing bond between us, and they are what I can offer him today taking into account where I am on this journey.
Where's the Christmas thought in all of this? Don't get caught up in gift-giving as if your gift has to be good enough to earn their love. If they don't already, no gift will change their mind longer than for a few moments. And if they already love you it won't matter what the gift is because they will care about the friendship most of all.