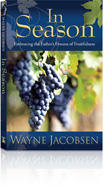 One of the things I enjoy about having a new book out there is that it shifts the conversation a bit. I love talking about living loved and why there might be better ways to do church than to fit it into one of the models so prevalent today. But now I'm finding through A MAN LIKE NO OTHER I'm getting to talk more about the life and person of Jesus—the most compelling person to ever traverse this planet. And because of IN SEASON, I'm seeing people think a bit differently about their spiritual journey. Finally many are beginning to understand that you can't find life in him by applying a set of guidelines, no matter how good the guidelines.
He invited us to follow him, not follow a set of rules or rituals. We can only do that where a growing relationship with him is helping us begin to sense his whispers in our hearts and his nudges toward the people or things he wants us to engage, and those we can pass by without obligation. The longer I walk this journey the more clearly I see that daily following him defies any set of guidelines we try to force on any particular situation.
I know some will take that too far and toss out any principles of righteous behavior that will help us see and test what he is saying to us. I wouldn't go that far. Principles of love, kindness, justice, and grace give us a moral compass in which we can recognize his impulses in our lives. Having a righteous heart will mean we won't cheat on someone we love, we won't gossip to tear down another person, we won't lie just to get something we want, and we won't betray close friends in our own self-interest. We are willing to do the difficult thing, rather than the easy thing. We'd rather give up our lives that manipulate someone away from there. Morality matters. Those who live without a moral compass easily justify the most obscene behaviors for their own personal gain and leave in their wake a host of broken hearts. What's more, they won't even care about those people so sold are they on their own personal happiness or survival.
But those principles alone will not tell us what to do today. The problem with trying to live a life by Godly principles alone is that you arbitrarily try to implement something that is true into a situation where it does not fit.
Many does not live by bread alone, but by every word that God breathes. Don't look for another program to tell you how to live. Stop trying to find the principle to apply in your situation today that will turn the tide on your relationship with your spouse or kids, or bring you the life you hope to have. Instead, find those things that stir your heart to know him and in knowing him to recognize the smallest breath of a whisper he puts in your heart. Follow him today, as best you sense him and that will be enough.