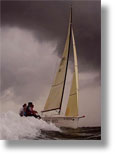 I wouldn't have even remembered it if it hadn't come up again the next day. The person who picked me up in the morning to drive me to my next destination told me a friend of hers that I'd met last night had called this morning to tell her how much my parting words had encouraged her. I scoured my brain to remember what I had said and came up blank.
"You don't remember," she said.
"No, I don't."
" As you hugged her you whispered, 'I love the mess you're in.'"
Now I remembered. It was only a passing comment, but somehow it had found a receptive heart. I really enjoyed this couple and their courage to follow Jesus even though some of their friends couldn't understand the journey they were on. Many wanted the husband to quit his vocation and be their pastor, but he had refused, preferring them to follow Jesus and love each other rather than be managed by him. So their decision wasn't popular and had caused some to begin to look down on them.
I love those kinds of messes. No, they are not fun, but messes created by our following Jesus are good messes to be in. He does wonderful things in our hearts even through the faulty judgments of others. Other messes, created by our own selfishness, failings, or arrogance aren't such good messes. Oh, Jesus redeems us in the midst of them too, but I don't love them so much.
That's why some messes are better than others. Some storms you sail into because you're lost, trying to save yourself and that takes a lot of rescue and rebuilding. I'm blessed Jesus does that. Other storms come up as we are following him, and while we don't necessarily enjoy the mess, we can rest knowing it isn't one of our own choosing.