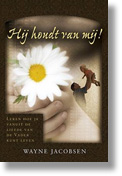 Well, I'm off to Austin for the weekend and then to Central Florida for the early part of next week. If you want to connect with either, please click on the links above.
Also, the Dutch version of He Loves Me, is now available in Holland from Publishing House Shama, which also carries So You Don't Want to Go to Church Anymore.
And as much as I enjoy my own Kindle, I didn't know you could subscribe to blogs on it until I had some people asked me why mine wasn't listed. So, I worked through the process and now those who wish to subscribe to the Lifestream Blog on their Kindle can do so. It costs $1.99, but it will automatically sync new entries on the Lifestream blog with your Kindle each time you log on. Sorry about the cost. That's THEIR charge, not mine.