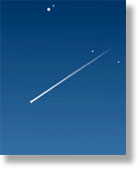 Last night Sara and I went out to watch a flyby of the International Space Station. It is making a series of passes just after nightfall here in Southern California, which means the sun is shinning on the space craft and it easily visible as it streaks across the night sky. Last night we watched the bright white spot for five minutes as it arched from west to east.
Last night we went out to watch it again. Standing in the quiet darkness of our back lawn we scanned the skies until we saw not one bright light streaking across the sky, but two. The space shuttle had already detached from ISS and was flying ahead of it by a few seconds. As they silently traversed the darkness, their orbit took them just beneath the half moon in the southwest sky. It was a moment.
But then the moment got even better. As Sara and I watched the space station and shuttle two brilliant shooting stars came over our heads from behind and joined the dance going on in the sky above us. It was one of those magnificent moments that take your breath away. As the space station and shuttle went out of sight and the shooting stars faded away, we stood looking at the night sky in wonder. There is stuff going on out there in the universe, even beyond our little planet that we hardly ever think about.
It reminded me of Paul's encouragement,
Since, then, you have been raised with Christ, set your hearts on things above, where Christ is seated at the right hand of God. Set your minds on things above, not on earthly things. Col. 3:1-2
Tension and frustration builds in our lives when we live in our circumstances without the awareness that he is in them with us as well. We are not alone. He is doing things that we may not even see or be aware of, that if we knew it our hearts wouldn't be so torn apart by the trials of this life and the schemes of dishonest people. We live in fear and make our worst choices when we think we are all alone having to fix what is broken in us or things around us. Instead Paul invites us to behold him, setting our hearts on what's above—his presence and his working in us.
Let's not live with your eyes only looking at what's going in the physical world we see. Ask him to teach you how to focus the eyes of your heart on the fact that you are not alone, that he is with you working out all things in conformity with his will and purpose.
That's what I learned last night as I stood with Sara in our darkened back yard, watching a dance across the heavens. Of course, Paul wasn't talking about space shuttles and space stations, but if you want to see the space station tonight, it will be going across the west coast from 8:00 to 8:05 tonight.