Walking. Walking. Walking. It's a good thing I enjoy it, because that's the regimen now.  I'm nearly two weeks out from open-heart surgery and according to my doctors I'm on the upside of the recovery curve. I was home after two days, have nearly stopped all pain meds  and can function at about 80% of normal for 4-5 hours a day. All in all this has been way easier than I had thought watching my dad go through this 12 years ago.
But there were some significant differences in our two surgeries. He also had triple bypass; by God's grace my arteries were clear and I did not need any bypasses and thus did not have the extra load of having arteries harvested from elsewhere for the grafts. Also, I didn't get my entire rib cage split open. My surgeon has been part of team developing a less-intrusive procedure only opening the top half of the rib cage instead of the whole thing. Also, the technology of these procedures has also changed significantly leading to better recovery times. So I'm not anticipating taking a year to recover as I've heard from many other open-heart patients and for them I'm thankful.
So as Thanksgiving approaches, I'm really grateful: for an unexpected warning during a soccer scrum with my granddaughter, for skilled doctors, surgeons, and nurses who knew exactly what to do and were the most amazing people, for God's care during the harrowing moments just before and just after surgery, for the support of my wife and my family who carried me through this with compassion, humor, and kindness. And of course, there were so many of you who sent greetings my way, prayers God's way, and many who came by to visit and distract me from the long hours of staring into space.
And I love how many of you wrote me about others you were praying for in your life alongside your prayers for me.  That was so cool. Thank you for doing that.  And I received emails from people suffering worse than me, or with loved ones that were facing imminent death because they were beyond medical help. This world really is cruel and I have prayed for your loved ones as I have been prayed for by so many others. It is good to share the fellowship of suffering and not pretend a life in God is always full of ease and happiness. This is a broken world, and even Jesus navigated it often with "loud cries and tears" raised to God.
My friend David said I should "relish" this experience. I'm not sure I got there. His encouragement, though helped me see a different way to navigate this surgery. I got to a  place where I no longer fought it, or fought God in it. I let him have the reigns on these circumstances and relaxed into his goodness. He's been here with me, but I know some are waiting for new revelations of God's reality or of my mortality, but this didn't play out that way. God was just with me as we are navigating these events. I was more touched by a movie I saw last night, ARRIVAL, than anything that happened in surgery. It was not at all what I was expecting and I mean deeply touched at a Matrix-like level of seeing into some things God has been showing me for some time.  More on that at some future time, I think.
Two weeks out and I'm truly amazed at how all this has gone. It's nice to be mostly pain free now and only a bit uncomfortable at times. I'm glad I can read and stay focused for a significant chunk of the day. And I'm grateful to get out and go for a walk or even to a movie last night with Sara. Things are getting back to a better normal. I've got some more recovery time, obviously, and am looking forward to a quiet Thanksgiving season ahead with my family. After that I begin some cardio rehab to get my body back up to speed, but I'm grateful all this is on track for me to still be part of the Israel Tour leaving at the end of January.
And look who came to visit me yesterday afternoon to pick-up my spirits.  That panda on the right is Pepper, a gift from my daughters' family. The kids fill her with hugs so when I need to cough or sneeze, I can hold her to my chest with their love… So sweet!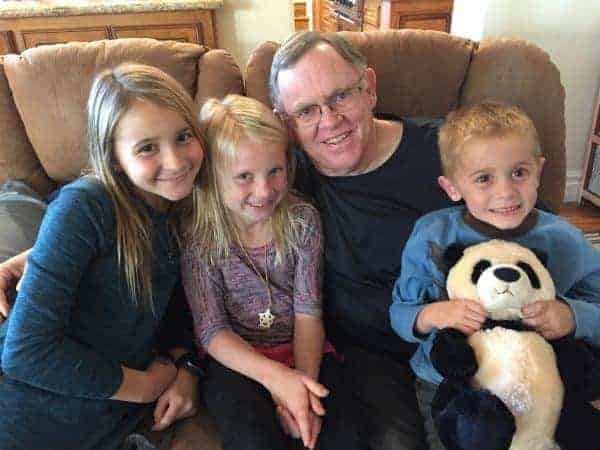 So wherever this journey takes you, I trust that you too find gratitude and thanksgiving rising toward God as he walks alongside you helping you find your life in him, not your circumstances.