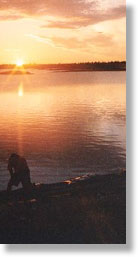 Sara and I leave tomorrow for a trip to Stratford, Ontario where we'll be spending a weekend with some new people to add to our journey. Though we've not met them before we are quite excited given our email contacts with some there and because they are good friends of some of our friends. After our weekend Sara and I will be going further north in Ontario to a quiet wooded valley for a much-desired week of rest and vacation together. So if I'm hard to get a hold of then, you'll know why! And even when we return we're going to continue on a bit of an extended break before Sara starts up at her high school in August. We're looking forward to some time away and don't look for many new postings here during that time.
For those Canadians further west, it looks like I'll be in Alberta during the middle part of September. And the weekend of August 17-19, I'll be up in the Tahoe area hanging out with some fellow-travelers as well!
I wish I'd had more time during this brief stay at home to put down more of my thoughts from my time in Ireland. I'm sure that will filter out in articles and blogs to come, but being home only a few days has only allowed me to keep some of the correspondence and paperwork at bay. It's amazing all the stuff that has to be done just to keep available the resources we do. Our podcast at The God Journey for this Friday, July 20, will be all about the Ireland experience and include some recorded observations from others who were there. I think you'll enjoy it. It will be called "Friends, and Friends of Friends".
For some other perspectives of our time in Ireland, you can check out these two blogs from two others who participated and wrote of it: Stephan Vosloo of South Africa and David Fredrickson from Sacramento, CA.
We are so blessed at all the emails and comments we're receiving on The Shack since it's May 1 release. People from all over the world have been captured by this little book and we're hearing it is being recommended in some incredible places. Eugene Peterson has recommended it in writing workshops, a former FBI profiler is recommending it to people who've lost children in traumatic events, counselors are recommending it to clients who are dealing with conflicts about God's reality in the midst of tragedy, and a number of influential writers are also excited about the book and recommending to their readers. We have added distributors in the U.K. and will have one soon in South Africa. I'm so blessed that others are finding this book as rewarding and powerful as I did when I first read it.
This week we also launched our new Windblown Media website to handle distribution of that book and future reprints of my own. We are currently putting the finishing touches on a second edition of He Loves Me, since we've only got a few books left here from the first printing. If you want to check out the new cover design, click here. I've revised it a bit and added a new final chapter to help people who are captured by the message of the book, but unsure how that becomes real in their own life. We should have those available by September 1.
Here's a quote from an email I received today… I love the focus of it, especially the concluding comment:
Three years ago we became facilitators for a home group in our church—this was the high point of our spiritual lives, so to speak. We have absolutely loved every minute of it. A few days ago the Lord said to step down and let another couple take over. I was heart broken.

I prayed and prayed, I cried, I asked God what could possibly replace this. One hour later a neighbor whose husband ran out on her came over devastated that she couldn't pay her brother to cut her grass and her dogs wouldn't go out to "potty." I quickly told her I would be glad to do it. Afterwards, I told her we understood how tough things were for her and said that if she need to, she could talk to my wife. The poor thing just broke down crying and said thanks. Later while seeking God again, I asked what I was going to do after home group. It is like I could see Him smiling as he said, "You've already started what is next!" WOW! What a marvelous God.

I guess I was still looking for a ministry, but God called me to a relationship
Well, that about does it. I hope you're getting some rest and relaxation in this summer if you're in the northern hemisphere, and enduring a not too brutal winter if you're down south! We are always blessed by the wonderful email we get from people who are on this journey, from experienced veterans and from those just starting out with a bit of trepidation at moving away from some comfortable forms with the disapproval of friends. May God grant us all the grace to keep our eye on him and live in the reality of his incredible affection for each of us.