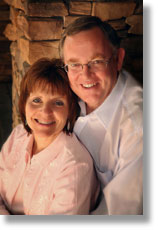 They did it again on this list trip through Michigan, Wisconsin and Minnesota. Every where I go the question I get asked most is, "Can you come back and will you bring Sara?" I usually joke that I don't bring Sara with me because people enjoy her so much, that they'd rather spend time with her than me. But that isn't far from the truth. Sara has her own compelling story and compassionate heart for people, especially women, who are sorting out what it means to follow Jesus. She is a wealth of wisdom and great fun and people usually feel sorry for her because she has to put up with me all the time.
But for the last few years she's also been counseling high school students at a local high school, as well as grandkids to play with and a garden she loves to tend. We pray together about every trip I take and whether or not God wants her to be part of it. While we do love traveling together when we get to, we also realize that God's purposes are not always served by our doing so. There are times Sara could have gone with me, but we felt she needed to be home. We had no idea why, until events later unfolded and we knew afterwards why it was best for her not to come. I hope her freer schedule this year will allow her to take more trips with me, but that will be mitigated by her need to take care of things in the office while I'm gone on longer trips.
And to be honest, most conversations I get into on the road about Father's love, my journey, the cross, growing trust, or relational church life, Sara has been through hundreds of times already. Those conversations don't provoke the same passion in her that they do in me, because God has not wired her in the same way. (And, honestly, I'm very grateful for that!)
But we've had a marvelous summer working together. For those that don't know, Sara is taking a leave of absence from her job to work with me at Lifestream, The God Journey, BridgeBuilders and Windblown Media. She's an incredibly capable woman in handling all things administrative with the vast number of projects I've gotten involved in. I need someone like her handling all those things for me as we work through the changes we face here. Hers is the voice you will hear now when you call our office. Believe me, she can handle anything I can handle.
All of this makes me so grateful that almost thirty-five years ago that lady sat down across from me at a homecoming banquet while we were in college. The relationship that began there has brought innumerable joys in the journey we have shared together. I'm so amazed that God chose us for the other and brought us together in a growing love for each other. I can't imagine a better partner for this journey and anyone that I could have more fun with on the way. I'm truly blessed that we have found a way to journey together through the ups and downs and joys and trials, that has only has drawn us closer together and fall ever-more deeply in love.
We talked the other night how different our lives might have been if we'd not found each other. Thirty-three years of married life has brought us together in a partnership we'd never have imagined. We continue to discover new things about the other and enjoy God's unfolding purpose in our lives. We've never loved each other more and we're having more fun sharing this journey than we could have imagined. Yes, we have our difficult moments both in life and in our growing relationship, but the wonderful times more than overwhelm them. After three decades of practicing what it means to love each other, we're actually getting pretty good at it. At least we think we are. Maybe we'll look back after fifty years and think how superficial our love was at thirty-three. That's how it feels now looking back at what we thought was so incredible when we'd only been married five years.
We're working on a book to share what God has taught us about engaging a lifetime partnership. We're calling it ONLY AND ALWAYS: TURNING THE WONDER OF ROMANCE INTO A LIFE-LONG ADVENTURE. But don't try to order it any time soon! We've got a lot of work to do!
I just wanted to re-introduce Sara to many of you so that you'll know who she is when she picks up the phone or answers your email. She's really good at what she does. I trust her with my life and all my joys. She's always been faithful, always gracious, and always wise. Treat her well, will you?