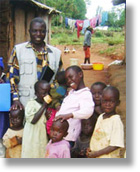 I hope you're not getting tired of me writing about Kenya. It has been some time since I last brought them to your attention because I know how easy it is for any of us to be fatigued over an ongoing, persistent need. We hear about it every day in our own country with the economic downturn and I also know that many of you have others you're in touch with in the world that need a helping hand.
But the Kenyans I know are never far from my heart. These are not just brothers and sisters, they are my friends. Weekly I hear of their struggle, their hopes, and the pervasive need for the simple things of food, clothing, and shelter that they face every day, and even more so the end of this year as the effects of last spring's drought continues to overwhelm their lives. I am constantly reminding them to look to God as their provider, not Lifestream, but I also know this is a corner of the world where God has asked me to be involved, so we continue to support his people there.
I am excited by the transformation we are seeing in them as they are learning to live loved. Two months ago we shipped them 24 copies of The Jesus Lens DVDs to help equip those who are wanting to help others learn to live loved as well. With each email I receive, I see forward progress in their thinking, their lives, their ministry to others.
This year through the generosity of many of you we were able to build an orphanage. Since it was completed in March we have also been underwriting the expenses for staff and food even though contributions have slowed to a trickle. Our commitment to them was to do so for another fifteen months in hopes that by then they will have a way to fund it on their own. We're also looking for ways to help these kids move into homes and be loved, rather than stay in orphanages.
I just wanted to remind many of you that this is an ongoing need and we are looking to Father on their behalf, seeing how he will provide for them. If you have any extra in this season, or simply feel called to help us support them either with a one-time contribution, or a monthly donation over the next fifteen months, that would really be a help. If you want to know more about this project or the AIDs recovery home we also support in South Africa, you can see our Sharing With the World page at Lifestream. You can either donate with a credit card there, or you can mail a check to Lifestream Ministries • 1560-1 Newbury Rd #313 • Newbury Park, CA 91320. Or if you prefer, we can take your donation over the phone at (805) 498-7774.