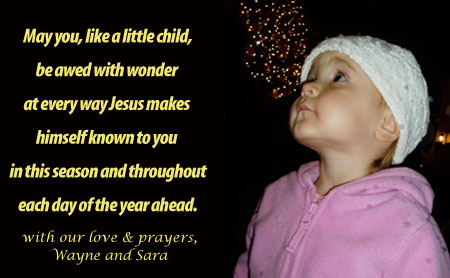 Yes, that is my two-year old granddaughter above.
From the whole bunch of us here at Lifestream, we've been incredibly blessed to be part of your lives this year, and to be a voice that encourages you to listen and follow Jesus into the life that truly is life! We are also overwhelmingly grateful for those who have encouraged us this year with gracious words, with much-appreciated prayers, and with finances whether it was in buying some of our books or CDs, or gifts that allow us to make so much of what we do freely available to people all over the world.
This is my last post of the year. I'm going to take a break from all my web content over the next couple of weeks as I celebrate this season with my family and also put my heart and head to some new projects Jesus is stirring in my heart. I'll look forward to communicating with you in the year ahead, and pray it will be one filled with God's glory for you in ways you cannot even fathom yet.