2017 has arrived!  Big deal!  I'm not much on arbitrary dates like this. Oh, they are fun to celebrate with friends but I know for many dates like this haunt them for the lack of seeming progress they've made in their lives over the past year. But transformation doesn't come in giant leaps and resolutions, but in a slow, steady heart that keeps leaning into Father's reality and out of the illusions of this world and even our religious sensibilities.  God loves you. He lives in you and as you just keep opening your heart to him each day he is at work in you to will and to do of his good pleasure. Find your way into that reality today, even if you can't see it's impact in the way you would like, and that transformation will continue.  God wants you free and alive in him far more than you do!
Sara and I have enjoyed the week between Christmas and New Years at Shaver Lake with my dad, my daughter and her family and with some friends from this area that we don't get to see often enough.  Kids, puppies and snow are quite a delightful mix as our new pup explored the white stuff. It amazes me how much all our dogs have loved the snow at first sight.  They bolt from the car and run through it like they've just discovered heaven. And they are barefoot at that!  We have had a great time up here and are getting ready to head home in the next day or two.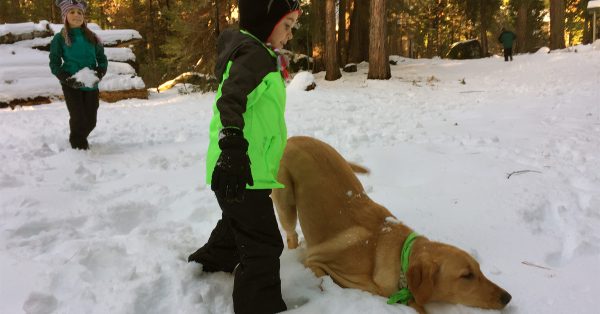 I'm now seven and a half weeks out of surgery and feeling pretty good.  Except for not being able to exert my heart as much as I would like, I'm pretty much back to normal and am so grateful.  The heart will take another 4.5 weeks to heal so we're slowly elevating my heart activity to make room for that. I continued my walks up here, in the snow and ice, so it's been brisk and beautiful.  And after all the trauma my body has been through I'm constantly amazed at the resilience of it as it finds it's way back to "normal." And hopefully it will be a new normal with a stronger heart and greater endurance.
Over the break I've been reading Colson Whitehead's book, The Underground Railroad. It's a novel that won the National Book Award about the people who risked their lives to help slaves escape to the north and the hunters who fought so hard to bring them back to be tortured so others wouldn't be tempted to try it. It is a story of fear and great courage. I started reading it as background for the book a friend of mine is writing about the Civil War. I'm helping him with it and wanted to read an award-winning book in that genre.  I am fully hooked on the characters and the story and looking forward to continuing later today.  It's got me thinking what kind of person I would have been back in that day if I'd be raised in the South.  There's no way to know, of course!
The best "gift" I got this holiday season was the opportunity two days before Christmas to watch the final version of The Shack movie with my family at the Lionsgate Screening Room. I'll write more about that experience in my next blog, but it was such a joy not only to see the movie myself, but to experience it with them and watch them and a roomful of other people respond to it. It exceeded my hopes. To watch people react with laughter and tears to the words and scenes that I helped to write was an extraordinary experience. Talking about it with my kids after was a further delight as they shared their thoughts and insights about it.  Will March 3 ever come?
But before it does, I still have a trip to Israel to make. Three weeks from today I'll be headed to Jordan.  Yikes!