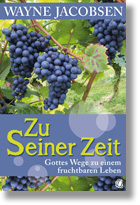 At left is the cover for In Season: Embracing the Father's Process of Fruitfulness that has just been published in Germany. I got to see some of the first copies when I was there a few weeks ago. You can order them from Glory World Medien.
I continue to be blessed by the people who have read the English version of this book and let me know that it has helped them more freely relax into the process by which God transforms them, rather than trying to change themselves for God. It is so important that we see fruitfulness as a process that God gives birth to in us, rather than trying to do our best for God and end up frustrated when his fruit does not appear. (There are also a number of new articles from Living Loved that have been translated into German. You can find them on our International Page.)
Maybe this is a good time to remind those of you who want to order any of our books, audio, or videos for Christmas gifts, the time is now. Shipping does take longer in this season. And, if you'd like, I'd be happy to sign any of the books to your friends and family. Just include a note with your order and we'll take care of it. And if you're still looking for that gift idea for someone, there are lots of things to choose from. You can find all our products here.
We continue to get incredible email from people enjoying our DVD series: The Jesus Lens. I received this one just a few minutes ago:
I have been treasuring "The Jesus Lens"! Long story short – have felt guilty for not teaching our children more "Bible". But I wasn't able to even read it without the abusive god issues resurfacing in my head, so I sure didn't want to teach it to my kids!!! I was hoping that they keep their childlike faith in their loving Abba. "The Jesus Lens" is helping me to see scripture so differently and is so helpful to me. Through it our Father is opening up a whole new world and a way to reconcile the god that I used to read about (in fear – literally) in the Bible, and the Father that I know.
The Jesus Lens can be viewed on-line for free, or ordered as a 3-disc DVD set to share with others.
And if you have not yet read A Man Like No Other, you really have to take a look at it. It makes an incredible gift book of extraordinary paintings and insightful reflections to help someone focus on the life of Jesus without all the religious distortions religion has added to that story.