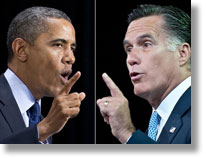 If one of these men was your hope for America's future, then your hope was sorely misplaced. And you're actually in more trouble if your guy won than if he lost. Our hope is never in the ways of or abilities of humanity, but in the unfolding purpose of a gracious Father.
This morning I got this comment on my last blog about the election, and it reflects a lot of anguish I've also seen in my emails and in social media from many conservatives.
Wayne, now that the election is over I am in a rough place as I was putting some hope in the goodness of what good is still left in our beautiful America, but now I think I was wrong. l know that my hope is in Father and not men, but I find myself completely cynical about my neighbor. Evil will prevail in this life and I have spent far too much time in hoping I would not witness it consume our country-obviously we are going to watch it happen. I struggle with finding my footing in knowing that Father is in control, having to take the injustice of it all, and knowing that my job is to just continue doing as I have been doing for the past couple of years since Father opened my heart to his will of living loved each day and loving others in that love. I also know that many others have watched injustice happen all around them for a lifetime, and had somehow been able to live a life of joy in the midst of it. I am in need of perspective.
It appears someone is watching too much cable news, or even network news for that matter. The candidates and pundits pitted this election as good versus evil as a way to ramp up votes and ratings by ramping up fear regardless of what side they were on. No one I saw or read gave an honest analysis of what was really going on while treating both sides with respect and honor for their differing views. The tragic result now is that citizens view those who did not vote like them as evil people, not simply people with different perspectives and priorities. Our country is today the poorer for it.
If you want to find rest in God's unfolding purpose in history, you have to stop watching the news and believing the pundits. You won't believe how much more clearly you can see when you're not filling your head with the news channel rhetoric which is destroying the fabric of our culture. God is bigger than Obama or Romney. If your God can't work his purpose through Obama as much as through Romney, then your God is too small–way too small. Ny goodness, he had his way with Egypt and Pharaoh and Babylon and Nebuchadnezzar, Rome and Herod, even with Pilate.
Maybe the question is do we really want God's purpose? Because his purpose isn't always to make life easy and prosperous for us. Sometimes God's purpose includes hard times for our nations, which would include us as well. No wonder we look for someone to blame. We're afraid of our own suffering. But the world is doing just what the world does——serving itself, even to its own ruin. And our God is doing what he does, working in that brokenness to offer his light and life to anyone who will listen.
So if you take this election as a reason to fear your neighbor or regard them as evil, then you've become a pawn of the political parties and the mass media. That's what they want you to think so you'll keep tuning in hoping someone will give your side hope for the future.
If you want hope to grow in your heart, regardless of what America goes through in the next decade you've got to tune your heart to a different frequency and listen to Father more than the hostile political rhetoric of a broken age. You'll want to remember that his purposes are never thwarted, that he works through both triumph and tragedy as he draws people to himself and moves our world toward its ultimate culmination in him. His purpose is to draw all things to himself and the best way to participate with him is to learn to live in his love for those around us–including our neighbors. You can't love what you fear or what you hold in contempt.
People who disagree politically with you are not stupid or evil and they are not your enemy. This last election proved to me just how out of step I am with my culture, especially in the candidates and propositions in California. I tire of throwing more money at a government system that is corrupt, especially in California where the public-employee unions continue to manipulate the legislature to line their own pockets. But until my fellow-citizens wake up, we're just going to have more of the same. But are they less lovable because I consider them misguided? Of course not. The consequences of their actions will soon catch up to all of us, and then we'll see where we go from there.
I don't mind being out of step with my culture because I consider my participation in God's kingdom goes way beyond my American citizenship. Don't get me wrong, there's a lot about this country to love, even as we lament that which is wrong with it. And wouldn't it be best if we spent less time complaining, and spent more doing what we can do to make this world a better place. I hope the current economic crisis in America eventually forces our leaders to work together for real solutions, but whether they do or not, Father is still my provider and his purposes will unfold in the earth regardless of what humanity does.
And so I embrace this day with the joy that I get to be part of a a bigger purpose than our political system could ever touch. I get to live inside God today and see what he puts before me. And I get to love people who come near me today and have no idea what the loving might accomplish in others. And I will lay my head down on a pillow tonight grateful to be living in such a time with such an amazing Father.