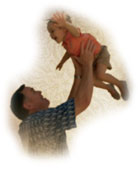 These two words, "living loved" have come to express the passion of my heart and the sum of how I hope my life encourages people through writing, podcasts or in conversations. For me, living loved is not a mantra or a theology to espouse. At it's simplest and most powerful, it is a reality to live in.
And I love how much God is sharing that with the world today. There are many voices talking about the love and grace of our Father and how the coming of Jesus changed everything about how we get to live in him. I love that no singular human is leading this parade and that many brothers and sisters are coming to discover it together.
What does frustrate me most, however, is knowing that some who can write or speak in eloquent terms about Father's love, even moving crowds to tears, do not reflect that love in how they treat others. Living in the freedom of Father's love shows up in your relationships—and not just those who benefit you, but those you consider the least or the last, or even those you presume to be your enemies. I am convinced that the depth of our character is most demonstrated by how we treat those who disagree with us when we're most sure that we are right. Do we treat them gently, give them the opportunity to engage, and offer them the same grace we talk about with others? As Jesus said, it is wholly inconsistent for those who have received great love and forgiveness to grab anyone else by the throat and demand their satisfaction.
What I love about living loved as opposed to just talking about it, is that it is transformational. Those who are well-loved, love others well in good times and bad always valuing the relationship above their own perspective. This is not something you can learn by principle, but by embracing God's affection at the deepest place in your soul. Until you know you are loved you will be sucked into every religious activity and performance treadmill that exists, hoping against hope that you can do the right thing to merit that deep affection from the heart of the Father.
But you already have his affection! The great lie of the universe is that you are not loved by the Creator of all. The question is only do you realize how loved you are? If not, that's where the journey begins. He wants to teach you that and in the process untwist in you what has distorted his love or has blinded you to it.
I'm off this week to upstate NY to spend a weekend with some dear friends and to share about living loved. But this week we're going to add something that has been growing in my heart over the last year and that is not just to spend time helping people learn to live loved, but also to spend some time equipping people who are already learning to live loved, to help others learn as well.
I am meeting more people on this journey who are living loved who also have a heart to help others. But if they are not writers or speakers, how do that do that? Since many have thrown out all the conventions often associated with organized religion, they are unsure how their passion to equip others applies outside the box. We're going to spend part of Friday talking with some people who want to have that conversation. I'm excited about what may come of that. There is a need for far more workers in the fields helping people embrace the reality of living loved.
Surely the best way to equip people around you is by the example we live when we're not trying and the conversations we have with people who are struggling to discover what it is to live loved. But there is also the need to help equip others with the instruction that sustains that walk and the encouragement to dive in and sample its wonders, without reducing it to principles and boring lectures.
If you'd like to join us in Lowville this weekend, come ahead! I know it's late notice, but I've been heavily distracted by the unfolding circumstances of life. If not, let's look for more opportunities to have that kind of conversation as I travel about and deal with others.