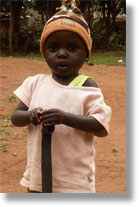 I'm still in Nashville finishing up with some business meetings today. Brad and I have had some amazing times with people all over the spiritual map on their journeys and have been encouraged and blessed by the choices people are making to live free even in the face of sometimes painful consequences. We even recorded our first live podcast with a room full of people who jumped in with us. We'll post that in the next couple of weeks. While I always get to spend time on the road with amazing people, I always look forward to heading home. That will happen tomorrow.
I'm sure people are going to get tired of me sharing the needs in Kenya. I'm sorry to do that to those of you who just need some encouragement or provision in your own lives these days. And please, don't feel any guilt whatsoever if God has not put it in your heart to be of help or if you don't have the means to do so right now. Like anything else, if God wants you involved it will be a joy to do so, not a frustration or a guilted conscinece. But I got this email this morning and these are boys I know, most of them orphans. I was in their home the man who wrote this letter cared for Kent and I over the five days we were in Kitale.
Receive greetings from Kenya. I thank God for the wonderful time we were together with you in Kitale. Your conference has changed people here and teachings has changed people and there is a great change for everybody here. I want to share with you that I have tried to find your email and I am not familiar to communicate through internet but the secretary has helped me to communicate with you. The director and other people went to the northern part of Kenya near Sudan for preaching to the people there who have not been getting the word of God a long time but the problem is that when they were out almost nine children in the children's home including one of the workers came under heavy attack of malaria and typhoid. I have tried to communicate with the people who went for the mission through phone but I cannot reach them due to heavy rain , the children have been admitted in hospital for three days now including my little child.

The Doctors wanted the initial deposit of 28,000 Kenyan schillings (about $400.00) before they continue with the treatment and I don't know what to do. I am sending this information without the permission of anybody and the way I know you as a man of love the time I was with you here. The malaria has gone around the country especially this heavy rain season. These are the names of the children who are admitted: Edwin, Mateka, Deno, Brian, Martin, Sammy, Faith, Nelly, and my little child Enos

God bless you so much as I wait to hear from you,

Hassan
In a posting I put up last week, I also shared another need for mosquito nets and food, totally almost $20,000.00. Really, these people truly have nothing. They have never received money from anyone outside Kenya before coming in touch with us and have so few options. The combination of the violence many suffered two years ago the poverty of their region, and now the rains and diseases that come with it continue to pile upon them. Simply these are life and death issues, and they are so used to death.
I continue to encourage them to look to God and not to Lifestream. He is their provider and he wants them to grow in their dependence on him, not me and my friends. But I also know that this is an incredible opportunity for some of our abundance to flow to a need around the world where every dime actually helps someone subsist today and perhaps find a future to take care of themselves.
We will be sending some money over today. If you'd like to help us with any of these needs, from medical to food to mosquito nets, please see our Sharing With the World page at Lifestream. You can either donate with a credit card there, or you can mail a check to Lifestream Ministries • 1560-1 Newbury Rd #313 • Newbury Park, CA 91320. Or if you prefer, we can take your donation over the phone at (805) 498-7774.
Thank you for your consideration and prayers.