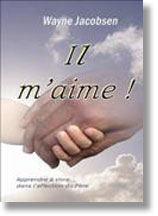 He Loves Me has just been released in the French language by Edition Promesses, who also published So You Don't Want to Go to Church Anymore. The market for these kinds of books in French is incredibly small, but as a labor of love a good friend of mine from Switzerland translates them and a dear lady from France publishes them to make them available. You can get information on ordering either book in French here.
I'm always overwhelmed with joy when people find some of our books and articles so valuable to them that they want to take the time to translate them for others who cannot read English. I just had a request today from a fifteen-year-old girl in Finland that wants to translate into Finnish some of the articles from our newsletter. Her parents are going to help her. I'm just amazed at the graciousness of people who have passion and vision. I appreciate so much those who are willing to go to such lengths to help others be encouraged in the journey of learning to live in the Father's affection and live in that love with other believers and before the world.
If you want to keep up with various translations of Lifestream books and materials, you can visit our International Page. If you know of others we've left off here, please let us know.