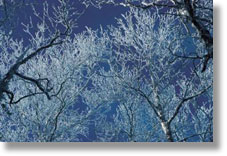 Hi All! What a crazy weekend this has been…
It began with a 42 hour trip from my home in Moorpark to the folks I was going to hang out with over the weekend in Springfield, Missouri. In that amount of time I could have flown to Australia and back and to Australia again. But an ice and snow storm swept through Missouri and surrounding states as I arrived in Denver on my flight to St. Louis. I spent all day Thursday at the airport seeing if any flights were going to get in to St. Louis. None did that night.
Fortunately I remembered that a family had called me what I thought was a few months ago, saying they'd love to meet me, that they lived 10 minutes from Denver airport, and I could have a bed there any time if I got stranded in Denver. So I called them. It turns out that they had offered that a couple of years before, but they still remembered who I was and invited me over for the evening. They picked me up at the airport and returned me there the next morning. We had a great time sharing our lives together and discovering yet more splendor in this incredible family that is the church.
On Friday my 8:30 flight for St Louis didn't get airborne until noon. I arrived at 2:o0 to a mess. They didn't have people to get the baggage or help park the plane. What a mess. Fortunately my bag was already there from an earlier flight so I grabbed it and went out to meet my ride to Springfield. It's normally about a three-hour drive and I was trying to get there for a 7:00 meeting.
If you have never seen the effects of an ice storm, you have truly missed one of the wonders of the world. It does make a mess for travel, but the beauty of ice-encased trees make it look like crystal forests, especially with the sun shinning through the backside of the trees. At one point in our travels the sun at its final moment of setting shot some orange rays through the trees we were driving near in the approaching twilight. The trees lit up like they had been decorated with orange lights at the tip of every branch. I had never seen anything like it. We just marveled at it for the 45 seconds or so that those circumstances converged. Truely, truely awesome!
Unfortunately I-44 to Springfield was a parking lot, due to the ice and snow conditions and a multiplicity of accidents. At 8:00 at night we got trapped behind an accident that closed the freeway for nearly 2 hours. Of course we didn't know why it was closed, but we sat in our car in sub zero temperatures with an ever-lowering fuel gauge, thinking we might be spending the night on the freeway. It was hilarious discussing the possibilities. But the traffic finally got moving and we arrived in Springfield at 12:15 on Saturday morning, 42 hours after I left my home in Moorpark.
But the folks were gracious and we had a great time through the weeknd. If you want to read someone else's take on our time togther and see pictures, you can check out a series of entries on Rob's blog, one of my hosts for the weekend… Sunday afternoon we headed back north to St. Lous where we met with the group i was supposed to have met with on Thursday night when I was stranded in Denver.
I also got a call from Sara yesterday about the wildfires in my hometown of Moorpark, CA. I also got a number of emails from people check on us to see if we were in danger from the fire. There are three fires burning in and around Moorpark fanned by 75 mile per hour winds. Our home doesn't seem to be in any immediate danger. The fires are all west of us at this point and the wind is blowing to the west. One fire, however, is less than half a mile from our home, but it is also west of us and not likely to move our direction. But it is a bit unnerving for Sara being home alone. I fly home tomorrow to see what's going on. But as of now all is well, though Sara has gathered up our irreplaceable things and put them in her car, just in case…
One last thing. I had some kind of computer glitch here that erased all my inbound email from Sunday. So if you wrote me yesterday, I did read your emails, but I no longer have them and cannot respond. I am so sorry. If you will resend your email, I will get back to you…