This Saturday, March 7, I have been invited to be a guest on Moody Radio's "Up for Debate" show. This show, hosted by Julie Roys invites two people with opposing views to have a live call-in discussion about the topic. This week's topic: "Is Attending Church Manditory." It will air at 12:00 noon EST or 9:00 am PST. You will be able to stream it live from their website, or listen to the podcast at a later date if you wish. I have been assured that this is not an attack-show with people screaming at each other, but a reasoned discussion of conflicting points of view. I'm looking forward to exposing Finding Church to a wider audience.
It should be an interesting discussion, since my counterpart on the show has written extensively on this topic, including the Twelve Reasons Why Membership Matters. I hope the show can shine a light on the reality that people can still engage Jesus and his church without necessarily being a committed member of a local institution. It should at least be interesting.
Here's how the producers of Up for Debate are promoting the show: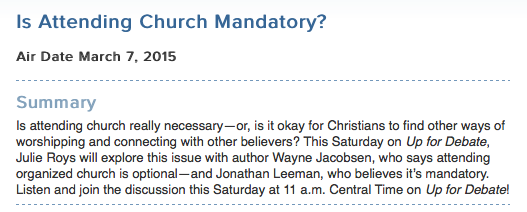 In conjunction with this appearance we are going to be re-offering our Finding Church get-one-free offer. Any one ordering Finding Church before March 31, 2015 will receive an additional copy free to share with someone they love. All you have to do is order one copy and an extra book will arrive with your shipment. We have been overwhelmed with the response to this new book and enjoy helping others share that message of hope in the new creation with others.