Finding Church is now headed for production. I have lived inside this book for more than a year. Every waking moment it is not far from my conciousness and so many conversations over the last year played into its development. Today I'm finally handing off the manuscript to the production folks, after all the editing and massaging I can do. It's always a weird feeling. I have no idea at this point what to change, but as these things go when I read it in a few months I'll think, "Wow, I wish I'd said this a bit differently." Or, "I wish I'd included that." But books are always a snapshot in time and hopefully they become part of a larger conversation where we all continue to grow in our appreciation for and our participation in the church Jesus is building in the earth.
And thanks to so many of you, hundreds literally, who contributed your thoughts about the cover art. I know it was risky in that people might get married to one cover or another, but I wanted some input because I was unsettled about it. I realize all who contributed were at a giant disadvantage not having a clue what's in the manuscript. The geese cover I have had since last November and I loved it. It was a safe cover, but also a bit stereotypical. In the end, however, I don't think it expressed well what's inside the book. Though I've use the geese analogy often, it doesn't play into this book at all. This is about looking at the church in an entirely different way—not as an institution that man can contrive, but as a reality inside the new creation Jesus launched at his resurrection and into which he invites us all.
It makes itself known in the conversations, connections, and collaborations he gives us with others who are also embracing a different way to live in that new creation. Rather than having to manage our competing appetites of the flesh, we get to see what relationships become when Jesus is at the center of them and we are learning to live in his affection with grace and generosity instead of fighting for our own preferences. It creates the potential for a new community, but one no one can regulate. It is demonstrated in the relationships that grow out of our freedom in him and that makes for some interesting possibilities.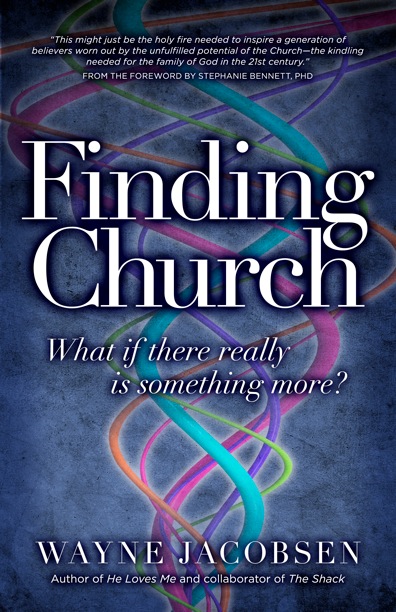 In the end, this is the cover design I landed on. I realize not every one will like it, especially if you had another preference, but it is art and it is subjective. More than you know your comments in Facebook postings and email helped shape my journey here. I was less concerned what cover people were voting for as to what they were saying about them. What I love about this cover is the mystery of seeing seemingly divergent threads be spun together by an unseen breath. I love the colors that speak of a rich diversity that is beginning to be spun into a common unity. The cover, however, is just a curiosity, not a piece of art people have to hang on their walls. I think what will draw people to this book is the title and tag line. As one many told me after reading the first chapter, "Anyone who has ever sat through a Sunday morning service has had that same reaction. There must be something more than this?"
I trust God to take this book as far as he wants it to go, whether it is to comfort a few dozen people, or find its way into a larger conversation about how we experience the life of his church and why our institutional arrangements can never sustain or maintain a reality that transends them.
Our publication date for the completed book is October 15 and will retail for $11.99. We are now taking pre-orders for the printed version of this book and you can do so here. The books will ship on or before October 15. About that time we will also be releasing the book in e-book formats as well that will retail for $7.99. An audio book will come later this fall when we can get it done. Also around October 15 we'll be making books available in quantity discounts for those that want to order by the case. Please let us have some time to sort that all out.
I'll be reading Chapter Two on tomorrow's podcast since so many of you have asked. Here's what some people are saying about this book:
This might just be the holy fire needed to inspire a generation of believers worn out by the unfulfilled potential of the Church—the kindling needed for the family of God in the 21st century.
From the Foreword by Stephanie Bennett, Ph.D.