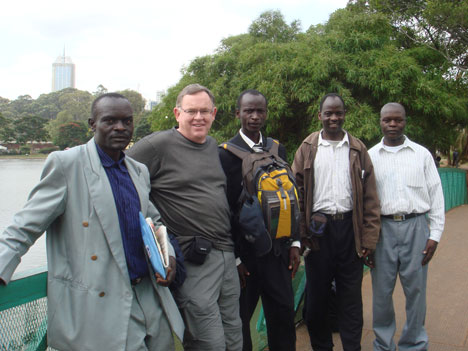 Touring Nairobi on Day 1
Kent and I arrived Monday night and are settling in to our two-week visit to Kenya. We spent the first day getting to know some of the people that planned for our coming and mapping out what was ahead. Then they gave us a tour of Nairobi. That's them above hanging out with me in the city center. Unfortunately Kent took the photo so he's not in it.
Then we took a flight north to Eldoret, and then a three-hour, sixty-mile drive, that would be impossible to describe here) up to Kitale. Let's just say it had its scary and risky moments with the traffic, a very rough road, the pedestrians and some malfunctioning equipment on the vehicle. Needless to say Kent and I had some great laughs.
Now we are in the middle of our first conference here in Kitale, and hundreds of their church leaders have come from all over Kenya and some from Uganda to hear about living loved. I am working through an interpreter, which is always a bit more difficult, but I think the message is getting through. Let's say I'm seeing just about the right amount of people really excited to hear it and some who look like they are deeply concerned that I might be a heretic. The grace and freedom of love sure runs counter to our religious sensibilities and things we think we're supposed to do for God. But the questions they are asking tell me they are sorting through it. I'm grateful for that.
Unfortunately we're not having a lot of personal contact with the participants due to language barriers and the way this was set up to deal with some harsh realities of Kenyan life. But I think God is having his way in spite of the limitations. One highlight was hearing from a group of ladies who lost husbands in the tribal violence two years ago. They saw their husbands beheaded and then were forced to carry their husband's head on a stick through the village. Unbelievable! They sang with passion and joy about the Lord Jesus and the power of forgiveness. The people those areas that were affected by violence are working to bring together people from both sides of the conflict and build relationships they hope will prevent this from happening again should the political coalition collapse. It is still a great concern in this region.
Internet availability is very difficult here. I'm not sure we'll be able to post very often, so this may be it for awhile, and I don't even know when I'm going to be near enough an Internet connection to post this. Pray for us if God brings us to mind. We know many of you already are, and we're incredibly grateful. There is much that makes this trip extremely difficult and I think the enemy has had no small hand in some of what we're dealing with in the details of this trip and some of the realities of this culture.