I look forward every year to our time in the Sierras where my 95-year-old father lives. I love everything about this area—the pines and cedars, granite boulders, the blue water of an alpine lake, a starry night sky clear enough to see the Milky Way with ease, wild lupin, the crunching of dirt, pine needles, and sticks underfoot, and the scent of buckbrush wafting on a gentle breeze. My dad and I saw a deer with a young fawn the other day scurry into the trees.
No place on earth beckons my heart as much as the High Sierras.  For me, this is one of those "thin places", where the distance between the temporal and the eternal doesn't seem so distant, and it's a bit easier to sense God's presence in the Creation and my own heart.  I think clearer here, listen better here, and I'm sure that's aided by trying not to do too much "work" here. These are our days of vacation and restoration.
We also have a lot of fun with family—long walks with Sara, a conversation with my dad, or enjoying my daughter and her family as they come up to spend a chunk of time with us.  We enjoy playing in the lake, enjoying games in the cabin, and swapping stories over dinner.
That's why things have been quiet here and why I'm backlogged on answering emails. I've got little time or inclination to spend lots of time on a computer here. I did, however, just finish a re-reading of Ruth and how God does such good work out of the messes we make. God didn't want Israel to intermarry with nonJewish people in their area. Nonetheless, they do. One man moves to Moab and his sons marry Moabite women. After a number of years, the father and both sons tragically die. Because of the faithfulness of one of those wives, Ruth,  to her widowed mother-in-law, God graciously opens a new door for her. She marries Boaz, a wealthy Israelite, and then she becomes part of the lineage of David, and ultimately of Jesus. I love that about God. He is able to work amazing triumph out of great tragedy, even those of our own making.
Here are some other things that might be of interest to you: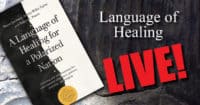 Tomorrow (Tuesday), I will be joining a live Zoom session tomorrow at 2:00 pm PDT with my coauthors of A Language of Healing for a Polarized Nation, Bob Prater and Arnita Taylor. You won't want to miss this one.  Lisa Vitello, an actress and facilitator of CultureBrave will guide us through a conversation about Chapter 13, Sharing the Table. Lisa hosted a release event for our new book in Los Angeles when it came out last November. What was planned as a two-hour session went on for almost six. She asked us some of the most incisive questions we've encountered to date. It will be a joy to speak with her again.
Language of Healing Live is a continuing series of bi-weekly video conversations to help people learn to live more generously in this divided world. You can view previous ones here.   We will be streaming live at the Language of Healing Discussion Group on Facebook, and I will attempt to post that feed on my Wayne Jacobsen Page there as well.  Join us there live, or watch the video after, which I'll post here when we've finished.
Just a reminder that Part 10 of Embracing His Glory will drop tomorrow over at The God Journey. This is a continuing series about learning to live loved and transformed by the work of Christ. If you haven't been in on it, start at the beginning. It will make more sense. That will be the last new podcast at The God Journey until I get back to the office. I hope it is helpful for you.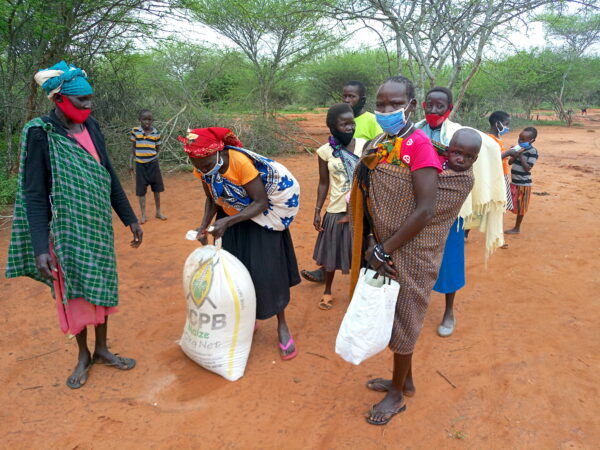 Finally, we are still needing some help with Kenya. The hope is to drill two more wells for two neighboring tribes to the ones we helped over the last five years.  A couple of weeks ago, I wrote in more detail about the need and why we want to help to protect the resources we've already provided to other tribes in the area. The picture at left shows some of them the aid we were able to immediately send them for food, medicine, and protection from the coronavirus.  We have taken in about $34,000 of the $71,000 we need to provide aid and drill the two wells there. As is our custom, Lifestream does not take out any administrative or money transfer fees. Every dollar you send us gets to Kenya, and all contributions are tax-deductible in the U.S. Please see our Donation Page at Lifestream. You can either donate with a credit card there, mail a check to Lifestream Ministries • 1560 Newbury Rd Ste 1 • Newbury Park, CA 91320, or phone us at (805) 498-7774. 
We never take for granted the people who read these posts and carry us on their hearts as we continue to do what God asks of us in the world. We are blessed by your love, sustained by your prayers, and grateful for your generosity.