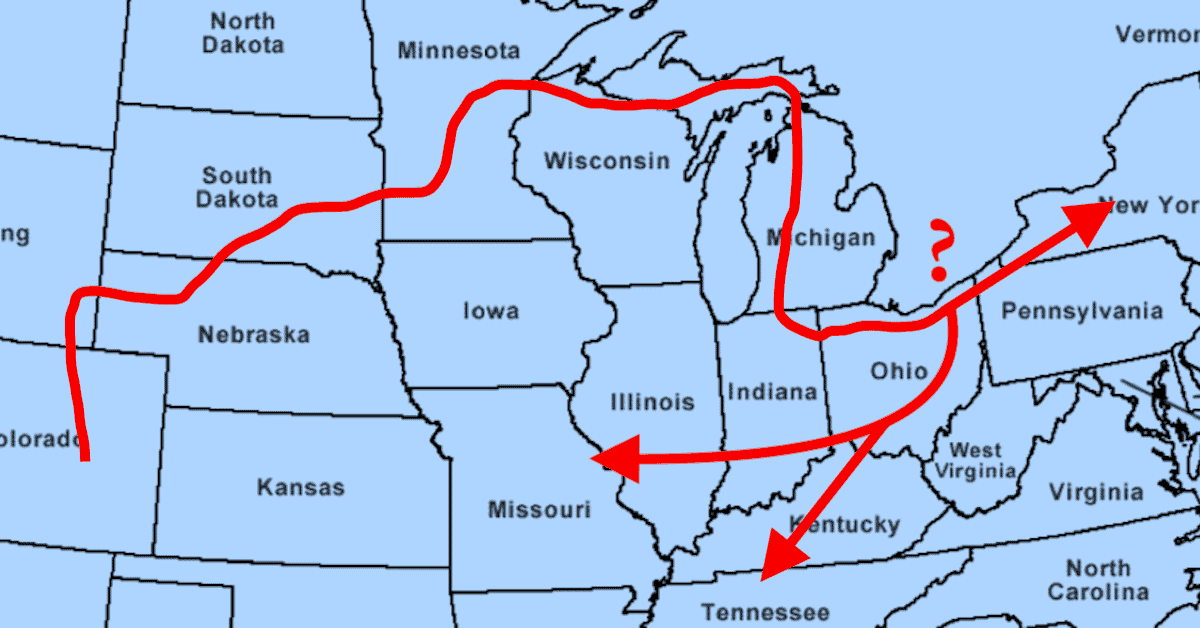 Today we finished up in Colorado and are heading up north to Wyoming to spend some time with my podcast co-host Kyle Rice and his family in Torrington, WI.  We've had a number of options from there but what has most settled in our hearts is a wide open door in Duluth, MN and then head through the upper Midwest—across Wisconsin, the Upper Peninsula of Michigan—before heading south. I was supposed to be in Traverse City, Grand Rapids, and South Bend earlier this spring so I want to make good on those. From there, we will head east through Indiana and Ohio, to a possible retreat in southern Ohio.
We'd planned on visiting some friends in South Dakota on the way to Duluth but not having heard back from them we are now considering an alternate route through Nebraska and part of Iowa. If you're along that route and would like to connect, please email me.
We're not trying to figure it out beyond that. After Ohio we could head into New England for some good friends and fall beauty, turn back through the lower midwest, or even head south through Kentucky, Tennessee, and Oklahoma.  We have lots of invitations no matter which way we go, so we're holding that in prayer while we see if Jesus has a preference for us.
If you haven't kept up with Sara's and my story in recent weeks with the Redeeming Love Podcasts, this may all catch you by surprise. It has brought some real changes to our life that are glorious, but it was through much pain and transformation. Sara and I are now touring the U.S. with our two big dogs in our RV, both for our own personal refreshment and connection as well as to share his light and love where God might invite us.
We are keeping to a very spontaneous protocol for our trip. We don't want to chase a hard and fast schedule that means we can't linger in places where Father might lead us. Instead, we are hoping for open doors to have conversations that matter with people who care when we pass through, trusting that those he wants us to be with have a hole in their schedule that will fit a hole in ours.
We're really open at this point. We don't want to be a burden on anyone and are taking responsibility for our own expenses, so this isn't about creating "ministry" opportunities at all, especially for any financial reason. It's just an opportunity for us to encourage others while exploring the U.S. in the aftermath of Sara's traumatic discoveries.
We're also not trying to draw crowds, but to simply celebrate the conversations that help encourage people to Life.  If you have any questions or thoughts, let me know. As always there is NO pressure whatsoever. It's just an opportunity, should Father put anything on your heart.
And if you want to keep up with us, keep checking this blog or sign up for Travel Notifications and be sure to include your zip code so we know about where you are.  https://www.lifestream.org/content/signup-lifestream-email.
I'm also updating people through my Instagram feed with one-minute videos on reflections from our spiritual journey. You can subscribe at wayneatlifestream.
We're almost two weeks out and having a wonderful time with each other and the people Father has led us to.  I even got this text after spending time with a young family:
I appreciated your desire to engage with our kids. (One of them said yesterday, "Wayne is so funny who wouldn't want to hang out with him?" That is high praise from a 14-year-old.
High praise indeed.  I'm so blessed they, too, enjoyed our time together. I certainly did. And I'm looking forward to whatever Jesus has for us in days to come.