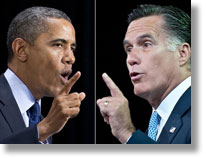 Watching both political conventions over the last two weeks, it finally dawned on me why I have come to find this entire election season so empty and soul-numbing.
Each side, using all the tools of public relations, exaggerates its claims to greatness far beyond any sense of reality, and at the same time exaggerates its opponent's weaknesses, even making up lies where it serves them. In the end we don't get an honest discussion of the issues, or even an honest appraisal of the men running to be our next President. We get a constant barrage of deceitful self-boasting and scurrilous accusations at the other.
False caricatures are all were left with. One person deserves our trust and the other is an evil man running for his own self-interest. The process is not designed to inform the electorate, but to manipulate their vote for that which does not even exist. If you talk to supporters of either man, they see it exactly the way the politicians want them to. One candidate is the only hope for America, and the other will totally destroy it. I don't know what's sadder, that politicians think we'll fall for the charade, or that so many Americans actually do.
I would hope that when President Obama and Governor Romney go to bed at night, they see through the false caricatures that mar their own campaigns. But I'm not so sure they do. I remember when President George W. Bush was asked at the end of his first term if there was anything he regretted, or decisions he made that wish he'd done differently. He couldn't think of any. Really? Can anyone be so self-deceived that they can't look back over any four-year period and not see the failures that any moderately intelligent person could see? Who doesn't gain better wisdom with the passing of time or in the consequences of their actions, not wish they had treated someone differently?
And now the media is in on the game as well. They join one side and manipulate their listeners to see their one-dimensional view of the world. Seemingly the only way to get a job in news these days is to be an arrogant, obnoxious advocate for liberal or conservative causes. Who is taking a hard look at what's true and able to analyze the nuances of the major crises that confront our nation?
False caricatures are not only a stupid way to choose a President they also destroy human relationships at every level. And yet shame drags us into our own internal conversations that are very much like this political campaign. Viewing yourself or anyone else in such one-dimensional terms is a recipe for disaster. It is the language of shame throbbing like a drum beat in our heads as much as in our culture.
There are those who find it easy to exaggerate their own sense of goodness or gifts, while also exaggerating the weaknesses of others. They end up thinking more highly of themselves than they ought to think and will live arrogantly in the world, demanding their own way, betraying their own word when it suits them, and making accusations against others to deflect people from seeing them as they really are. Wherever they tread, relationships are destroyed.
While I've known a few people like that, there are probably more who tend to focus on all their faults and failures, while exaggerating the gifts and insights of others. They are so crushed by their own perception of inadequacy that they exaggerate their own weakness or brokenness, while at the same time exaggerating the gifts and goodness of others around them. Unable to accept themselves as they really are, with a full complement of attributes, some positive and some negative, they define themselves as unlovely and unworthy.
As long as we are dominated by shame we'll live in a world of false caricatures of ourselves and other people around us. In the end we don't get to see people as they really are, a mix of some talents, wisdom, and gifts, but also of weaknesses, inadequacies, and blind spots.
I remember one of the last conversations I had with three other elders at the place I last pastored. They had been some of my close friends for almost fifteen years. They were trying to get me to embrace changes they wanted to make in the congregation that I thought would take us away from the road Jesus was inviting us to follow. The pressure they exerted was oppressive, offering me the place of "wise apostle" if I bought into it, and threatening me with being outed as a rebellious person if I didn't. I was neither of the two things I was being offered and yet those were the only choices I was being given. In the end, I decided that wasn't a game I'd play anymore.
I'm so glad I didn't. That game leads only to a false world of extremes where reality is celebrated and true life can unfold. While I crave the day when a politician will forge an honest campaign and make the other look foolish for not doing so, I have little hope that our political climate will change. But each of us has the freedom each day to walk away from a world of false caricatures and see ourselves and others as they really are. Let God show you how he views you, both the places that reflect his glory, and those places that he still yearns to transform. Don't be afraid to admit either and have the freedom to be who you really are in the world. It will help set others free.
And then learn to see others as they really are, celebrating their gifts and strengths, while pouring out compassion and patience on the broken places they endure. Life is so much better when we live in reality and not the false caricatures that our society seems to crave.