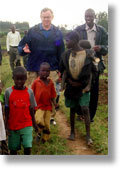 Well, I'm off to the Nashville area with Brad tomorrow. We're doing a retreat together this weekend for the first time so that should be interesting. Plus we have a number of other personal and business meetings there as well. I've also got some new trips planned to Lowville, NY and to Macon, MS over the next few weeks. There are more details on my Travel Page for those interested.
I also heard from our friends in Kenya. This is from Leonard (pictured with me at left) who overseas their work with the orphan children. I thought you'd appreciate his perspective:
Thank you very much for the wonderful moment we had with you and Brother Kent. My brother, you actually encouraged us. We did not expect to see someone with a great love of God like you brother. For being a simple man and flexible, a man with great love. Even before we met you Michael said how he had been changed with your message of loving others and we have seen this in his life. Michael, can forget himself and sometimes his family to give to other people. Any support you have been sending, he has never taken even a single cent if not instructed. But he has been also using his bricks project to help others.

So we appreciate brothers and for God to channel this IGEM Ministry for the needy. We do not have any doubt whatever you have been given has been distributed for what we had planned. We also appreciate for the new car. God has finally answered our prayer and we have not experienced any breakdown of this vehicle. It is very special that can also be owned by Ministers in Kenya. It can move anywhere regardless of the terrain. Our insurance is expiring and we need to renew at considerable cost. We appreciate that God will provide even before the expiring date.

About the children, I am working out with my fellow team and we will send you the information. As we have been making the evaluation, there are lots of problems especially for malaria, typhoid and hunger. If there is a way to help this starving families, My brother do so. We need to buy mosquito net for every family especially this rainy season. Michael have been taking different families to the hospital every week. And Mt. Elgon is far more worse than everywhere else. So your support will highly be appreciated now. May God bless you.
We awed and grateful for the many of you who have contributed to help these dear people and their families in the northwest part of Kenya. If you'd like to help us with the insurance, mosquito nets and food for those families that don't have it, please see our Sharing With the World page at Lifestream. You can either donate with a credit card there, or you can mail a check to Lifestream Ministries • 1560-1 Newbury Rd #313 • Newbury Park, CA 91320. Or if you prefer, we can take your donation over the phone at (805) 498-7774.
Thank you for keeping these people in your heart and prayers.