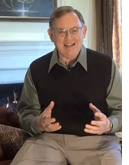 Sometime this weekend, the new Lifestream.org site will launch. It has been in the works for over six months. Most of why we had to redesigned this site has to do with some back-end realities that you'll never see that will help us streamline many of the things we do on that site. But that gave us a chance to update the look of the site and reconfigure it to be far more user-friendly with the current content we have. With our new back-end features, we will in time be able to help people connect with other folks who resonate with Lifestream content in their own area, but it will still take some time to configure that, and it will only be for those who opt-in to use it.
The reason I'm telling you now is so you'll understand any delays and complications that will result from this switchover. Hopefully it will be seamless, but since we're also switching servers it may take some time for everything to get in place. If you encounter that problem, we apologize. The switchover will come over the next few days and will take some time to propagate throughout the web.
We will also be launching next week a new feature at Lifestream called "Engage!" This will complement two of our major free resources—Transitions and the Jesus Lens. It will be a series of 3-5 minute videos designed to help coach and encourage people in the early stages of connecting in their own relationship with God. It is not a curriculum, nor a set of steps to build your relationship with God. In fact, it's the opposite. This is not how you can build a relationship with God, but learning to recognize how God is building one with you, which is a very different process. Knowing him is not about your effort or achievement, but learning how to relax into the reality of his love and beginning to recognize his whispers in your heart and his fingerprints in your life.

Engage: Recognizing How God Is Building a Relationship With You!
It will only provide a context for people to explore their own connection with Father, Son, and Spirit so that they can find their own unique walk with him. Each video will also include the opportunity for comment, questions and discussion as they process this in their own lives. I realize that the use of video for this purpose is limited, and that it would be far better for them to have someone they could sit down with face-to-face as they explore their own journey. So I'm doing this not just to help people walk with Jesus, but also to give people who want to help others learn how to walk with him an example of the kinds of things that can help people on this journey.
In the end, I'm not at all sure this will be helpful. We're going to try it. If it is, we'll continue. If not, we'll take it down. In any case we will be offering this, like all our best resources, free of charge. How can we do that with the great expense of video production? Because we've always had people who find these things helpful willing to contribute to the costs so that others can as well. We trust that continues here so that others around the world can have access to resources like this one.
We'll announce here when Engage is ready to launch and I'll look forward to feedback from people who want to utilize that resource.
Here's a sneak peek at our new look, if you're interested.