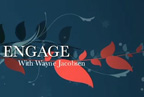 Despite assurances that we were going to launch our new website this past weekend, I have now been notified by the development team that it will be delayed at least a week due to a catastrophic server failure that resulted in a loss of two weeks worth of work. I'm embarrassed and frustrated that we haven't been able to deliver to you what was promised to me. Our original date was January 1. That got pushed back to February 1, and now we're being pushed back even further.
I'm sorry to have given out information that later turned out to be undeliverable. I'm most disappointed that we cannot launch our new video series, Engage! I've gotten a lot of email about it but it was designed to fit the new platform. Since the website will be delayed at least a week and possibly two, I am going to check on some other options to add the first episode to our current website on a temporary basis.
Again, please accept my apology. We're going to try to get all that fixed as soon as we can.