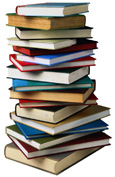 Every day I get new books, manuscripts, DVDs, CDs, and web links from all over the world, many by people I don't know all of them asking if I'll help them get a book published, review their work on my blog, or at least post a link somewhere. Unfortunately I get way more of this stuff sent to me than I can possibly process. t try to at least steal a glance at each one to see if there is anything Father is wanting me to do with them, but even that has grown so overwhelming that I can't do justice to any of them.
So my stack of books just grow and grow so does my sorrow that I simply can't get to everything sent to me and I don't have the opportunity to encourage those people that have something wonderful to say into the world. That's probably why I enjoyed this interview so much. My friend, Kent, pointed me to an interview between Seth Godin, author and Internet marketing guru, and Krista Tippett on her radio show, On Being about The Art of Noticing and Then Creating. There is a lot of good stuff in that interview especially for people who want to bring their art and craft before the world and see if it can find a hearing.
But I especially liked this part, because he also gets tons of books and manuscripts sent his way hoping he will mention it to his audience. Here was his response:
In a media-saturated world, we want to get picked. So like you, every day people show up to me and say, pick me, put me on your blog. If you would just talk about me, then my art will reach everyone I want to reach… That's not the way (this) works; it's bottom-up.

So what I say to people is, I'm not in charge of what's good. I don't get to pick what's a purple cow, what's remarkable — anything. That the world is, the bottom is, everybody, I'm on the bottom too, everyone is. So tell 10 people — there are 10 people who trust you enough to listen. And if you tell your thing to 10 people — if you send your e-book to 10 people — if you do your sermon to 10 people or show your product to 10 people and none of them want to tell their friends, and none of them are changed — then you failed. That you didn't really understand what was good. But if some of them tell their friends, then they'll tell their friends, and that's how ideas spread. So it's this 10 at a time — 10 by 10 by 10.

How do you put an idea in the world that resonates enough with people if they trust you enough to hear it? That then it can go to the next step and the next step.
I understand people who think that if they can just find the right promoter or platform, who will push their writing/art/songs/thoughts out onto the stage they would have the success they crave. But that's not how it has ever worked with me. No one ever promoted my stuff that didn't also want to turn me into a commodity for their own success and financial return. God has been gracious to not let that happen for me, and my books and podcasts have simply found their way into the world because other people enjoyed them and talked about it with their friends.
I have lots of people want me to "pick them" and their project, thinking that I can promote it into the space they desire. But I've never sought to promote anything, including my own stuff. My desire has been to make things available that impact me and let God do with it what he will from there. But I have felt the pressure to "be in charge of what's good," even though I haven't had the time or perspective to do it. These words really spoke freedom to me. I'm not the one who can decide after all! Yeah! I actually knew that. Some books I have recommended have found a huge reading audience. Others, I have recommended similarly have not. And it isn't always the better books that resonated with the larger audience. In this age of diffused media no one gets to choose what's good. Advertising and endorsements are not near as effective as simple word-of-mouth.
The one departure I have from Seth's approach above, is that if ten people don't get as excited about your project as you are, you've failed. I don't think all things worthy in our culture find the largest audience. And those that do find the largest audience almost always get twisted in the acclaim. If you can simply do what God asked you to do, simply make it available as he asks you to make it available, then you can trust him with how far it goes in the culture. And if our God puts wildflowers in the hidden places of the mountains that no one can see but himself, does he not delight in our writing, or art, or thoughts even if he is the audience of one that enjoys them? And the creativity on our part does wonder for us.
The world doesn't value what God values. When we get attached to the outcome, our art gets twisted, our relationships will get twisted, and in the end we'll get twisted. God's way of putting things in the world is far more organic than the way the world lusts after success. So if you have something to share, share it. Worry less about getting it to someone famous to be your champion, and simply share it with ten friends who trust you enough to give it a chance. If it's going to catch on, it will from there. If not, you may want to rework it or simply realize this was a gift to God.
And by all means, when you read something, hear something, view something that has touched your life, pass it on in whatever way you can. Tell people about it, recommend it in a blog or in social media. I know hundreds of people who have done that with some of my things, not as a favor to me, but because they were genuinely touched with something they wanted to share it with others.
That's how ideas spread. Don't wait to be discovered. Don't be self-promoting, it's obnoxious. Simply share freely in the space you're already in let it grow from there.