On Monday I leave for a very special trip. My father, son and I are flying to Washington DC to tour the city and to attend the dedication of the World War II Memorial, , on the National Mall next Saturday. I have been looking forward to this for a long time, not only to have some special time with my dad and son, and to celebrate my father's life and his sacrifice in that great conflict.
Fresh out of high school my father enlisted in the infantry to help liberate Europe from the death grip of a madman. He was wounded in a vineyard in northeast just before New Year's Day, 1945. That experience changed my dad's life and I have feasted on the fruits of it my entire life. A few years ago he told a story to my wife and daughter that explains so much of his life.
In the middle of that conflict, enduring the bitter elements and trauma of war my dad had a conversation with God. "If you get me out of this conflict alive, I will never complain about anything as long as I live." It wasn't so much a vow to barter his way out of trouble, as it was a statement of fact. Dad knew that he would never experience any worse circumstances in his life than he faced there.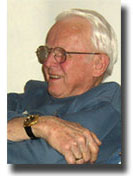 Over the years I watched my dad (at right) lose two raisin harvests, his only source of income, to unseasonable rainstorms. I heard others mock and vilify him for leaving congregations that had spiraled into more self than Spirit. I've prayed alongside him for people captured in the deepest bondages and watched him care for my oldest brother as he battled Multiple Sclerosis, and even endured his passing. He has been married for more than 50 years and I have never once heard my dad complain about anything, which is remarkable since I grew up complaining about everything.
In times of crisis and challenge I have seen him lean into Jesus with a gentleness and confidence that has held him through his entire life. He has been my father not only of the flesh, but also of the spirit as his example has inspired me to seek the reality and freedom of life in Jesus and never to settle for anything less.
Over the course of the next week I'll be celebrating him and the best of what America has offered the world. I'll tour our national museums and historic sites. I'll attend patriotic ceremonies where I know I'll be touched by the incredible ideals that have marked the American experiment. While I don't see American as a 'Christian Nation', I do think on balance she has been a force for good in the world and here best ideals of liberty and justice for all are derived from God's heart. Though our performance on these issues has always been flawed, there have always been men and women calling us to our best. And I will continue to pray for our leaders and be grateful for the men and women who have sacrificed their lives around the world in the name of freedom.
That may come as a surprise to those of you who took offense to my column on the perceived arrogance of the current administration's rhetoric and foreign policy. Some of you seemed only to prove my point the harder you tried to rebut it. Our expressions of superiority undermine our moral credibility. To talk about how we're being perceived in the world by our friends is not a judgment against President Bush's Christianity, but to pray it transforms him even more. It is perhaps asking too much, but I want anyone who claims Christ's name to also bear his character to the world and think that will go a long ways to accomplish the things President Bush says he wants.
So this week will be filled with joy and celebration as three generations of Jacobsen's tour DC and join 100s of thousands of people on the Mall next Saturday. I see no problem giving thanks to Jesus for the incredible things he has done in our nation, at the same time I pray for her weaknesses. I do no less for my own life…