Last weekend the brothers and sisters in Kenya dedicated the new gas station to the Lord's service. Children from Living Loved Care Centre were there to celebrate what the generosity of so many of you have provided. My heart overflows today at their excitement that God has provided a way for them to care for the children as a result of this enterprise. It is my joy to know that we were able to leave to something in that country that is not perpetually dependent on the West for money and resource. The goal all along has been to be alongside them as brothers and sisters helping them learn to trust God's provision through our own generosity. I'm blessed this is getting there.
So far we have sent them $80,000 to build the service station. The process has not been without it's difficulties. They needed an additional $8,000 to buy extra land to accommodate truck access due to where the pumps had to be installed. When it finally opened a couple of weeks ago they were excited at the number of vehicles stopping for fuel, as well as the local people getting gas for cooking. But then the traffic suddenly stopped on the road. As they checked into it they discovered the government had closed the road throught that stretch for an unannounced construction project. So after only a week of operation at the scale they anticipated, sales have dropped to near nothing as there is no traffic on the road. This project was unannounced and unforseen, and is only supposed to last a couple of months before the road reopens again to hopefully increased traffic.
We still need funds to help offset the original $80,000 and now we need an additional $3,000.00 per month through July and August to pay for food and staff at the orphange until the traffic resumes. So the work goes on and we're standing with them as God makes provision for a people so impoverished by the harsh conditions of East Africa. I am so grateful for how many of you have been part of this with us, sending in your contributions to help the brothers and sisters there. They are blessed as well. I did receive this email last week from our contact there:
Greetings in Jesus name , I finished the mission in Uganda and I am now in Kenya, last Saturday and Sunday we had a very wonderful dedication prayer, some of the children from living Loved centre were leading in prayer and singing , I took the time to share about you for what the lord had done through your hand, we got this project and Living Loved Care centre. The first prayer it was for your family, second is for your ministry and the third is for the friends , brothers and sisters over there who stretch their hands towards this project. The prayer team work came from all over from different of the regions.

Another thing, thank you very much for understanding our need, which Thomas shared with you due to road construction for continuing stretching the hands for the kids, I appreciate really for the heart of love and caring, may the lord bless you so much as I look forward to hear from you, the construction of the exit is complete we appreciate so much for the extension of the land.
Yours,
Brother Michael
If you would like to help us finish off the service station as well as feed and educate the children for the next two months, we and they would be grateful. If you want to know more about this project or the AIDs recovery home we also support in South Africa, you can see our Sharing With the World page at Lifestream. You can either donate with a credit card there, or you can mail a check to Lifestream Ministries • 1560 Newbury Rd, Ste 1 #313 • Newbury Park, CA 91320. Or if you prefer, we can take your donation over the phone at (805) 498-7774.
Here are some pictures they sent to celebrate their progress: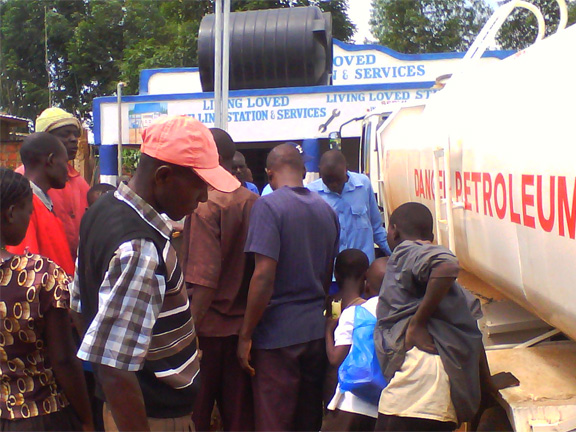 Filling the tanks for opening week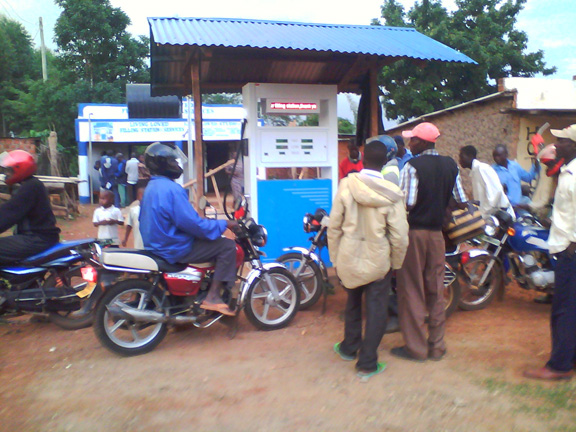 A steady stream of traffic on opening week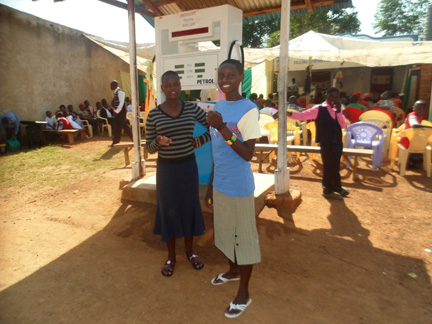 Girls from the orphanage prepare for the day of dedication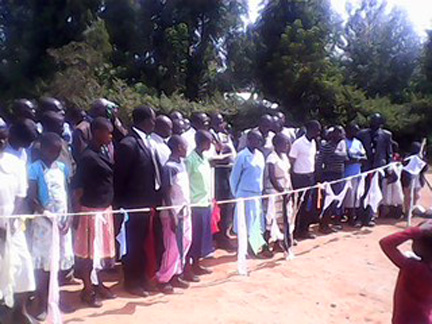 Preparing to officially open the service station