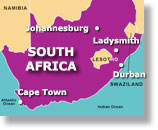 Day 4 of our stay in South Africa and we're finally getting our heads in the right time zone. Sara and I will be leaving Johannesburg this morning and head down to Ladysmith, where a retreat is gathering of believers from around South Africa. I love having multiple days together with the same people because the conversations get richer and richer and people get more relaxed with us and each other.
Sara and I visited Constitutional Hill last night, which has the prisons from the old apartheid regime and the new Constitutional Court that protects the rights and dignity of all South Africans now. Interesting juxtaposition, with the promise of the future set right in the horrors of the past. It was done intentionally as a reminder of the inhumanity people can do to each other all in the name of grabbing power and security for themselves. Sobering and enlightening!
We had a delightful meeting with some hungry hearts in Pretoria last night. I loved their hunger and the courage of their journey to discover how to live loved and not just conform to the religious rituals they were raised in. How I wish we'd had more than just two hours to be together. I would have enjoyed knowing many of them so better and hearing their stories of life and freedom, but that is all we had this trip.