A panoramic view at the Tala Game Reserve near Durban
Sara and I have been home three days now and this has been my fastest recovery from an international trip. I have slept well through the nights and seem to be back on Pacific Standard Time.
Many have asked how our time went there and I'm going to post some of my reflections from this trip. Sara and I wandered across the breadth of South Africa meeting brothers and sisters from all over the spiritual map. Many of them I had met on a previous trip four years earlier, but we also met so many new ones to meet as well. What I loved throughout all the places we visited was the fresh and unbridled hunger to know the Father, Son, and Spirit and the passion to learn how to follow them in the simplicity of their daily lives.
What encouraged me most on this trip was seeing the progress that people had made in their own spiritual journeys since I was in South Africa four years ago. Nothing brings greater joy to my heart than seeing in practical ways the transformation God works in hearts who follow him. What frustrated me most about the old religion I used to observe is that no one seemed to change. Come back two years later and people were still in the same place, faithfully performing their religious rituals, but without a transforming relationship with Jesus. I loved seeing how he had moved people further down the journey since I was last in South Africa.
I also saw great progress in the culture as a whole. South Africa is in the midst of an unfathomable transition. Those who held power over the last 150 years of the region's history have paid a huge price to expand opportunity and share power with all the people's of South Africa. It has not been easy, but I constantly marveled at the hopeful and gracious attitude of those who have given up so much to find a fairer way forward for those who have so little. It is still a work in progress, and great tensions still exist in working all that out, but overall I find people working hard to get it right.
And I loved the hunger we saw in new people we met. We met some wonderful brothers and sisters, some just starting out on this journey and others who've been on it for years, not knowing there were others with similar hungers. Many been reading some of my books and listening to The God Journey podcasts and we're finding increasing freedom from the rigidity of religion to embrace a real and enduring relationship with the Father of our Lord Jesus Christ. We had some incredible discussions and conversations, some of which we were able to record and will make available at a future date when I can work through all of that.
From Pretoria we journeyed down to a three-day retreat in the Drakensberg, a majestic mountain range. Here over 100 believers gathered for the weekend. Then we went to Pietermaritzburg for an evening where we met in former prison now being converted to a community care center. The next morning we left for Durban, stopping at the Tala Game Reserve where we took the picture above and those below. Such amazing wildlife in Africa!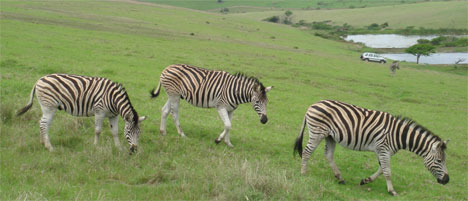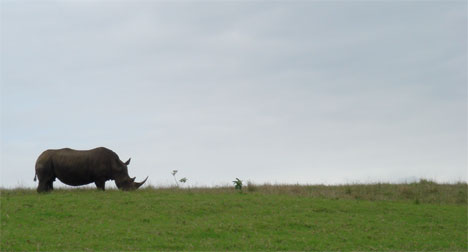 Three zebras out for lunch, and a rhino getting his share as well.

Then it was on to Durban to see the AIDs outreach that our friend Penny Dugan of New Jerusalem Ministries is facilitating in that region. We have been long-time supporters of this work and I have done lots of training for them in helping people to live loved. It has a wonderful place in our hearts and is shining the light of Jesus in a very dark corner of the world where the need is overwhelming. Their primary mission is to reach out to those infected with AIDs and provide care for the, but they also reach out to all kinds of needs to the people in that township and critical needs for food and medical care among so many of them. They also care for widows and orphans who have no where else to turn.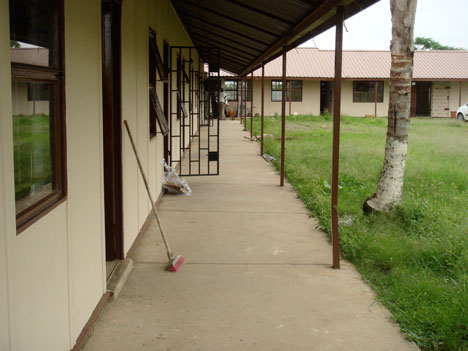 The Ukukhanya Life Care Centre that Sara and I have been involved with in the township of Ntzuma opened while we were there. The team there has converted an abandoned building into a care center to help with those living with AIDs and meet other needs in the township.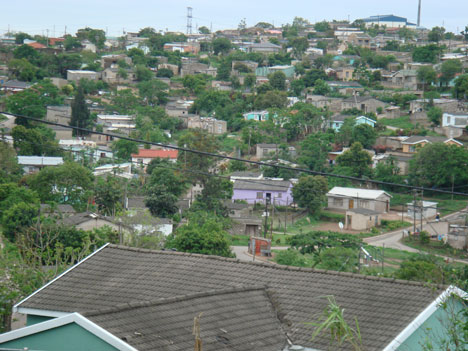 The township of Ntzuma, 500,000 people, 47% HIV positive. Numerous children here have no parents because they have already died from AIDs.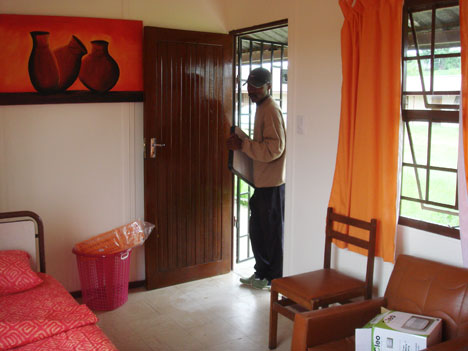 One of the staff puts the finishing touches on one of the newly refurbished rooms.

If you are looking for a place to share some of your abundance in the world with those who have so little, please give this place your consideration. The money is put to great use not only in South Africa but in the development of an AIDs care center near Wichita, KS as well. They have an amazing gift to reach into this area with the grace and light of Jesus.
Then it was on to our final weekend in the Cape Town area, where we met with three different groupings of believers over three days to share the journey and encourage people to follow that which Father had already put in their hearts. Cape Town is a beautiful area with overwhelming views and incredible people.
Wayne sharing the journey with brothers and sisters that packed into a home in West Somerset near Cape Town on our final day.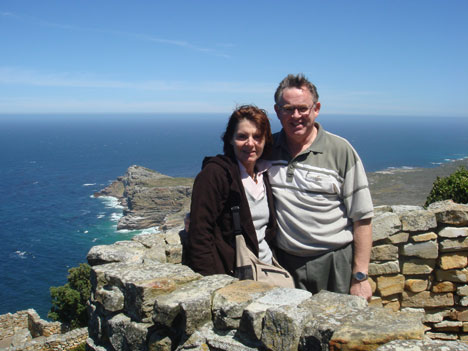 Sara and I at the end of the trip, windblown at Cape Point where the Indian and Atlantic Oceans converge.
All in all this was an incredible trip. Our hearts were knit with many people in that area who are learning to live loved and to love others. We were graciously received and cared for throughout our stay. We pray that God will continue to shine his light into their hearts and show many more people how to live in the fullness of his life and freedom.