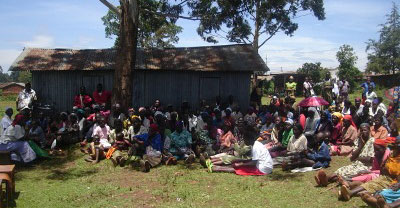 Yesterday I wrote to our friend in Kenya and asked how they were doing since I hadn't heard in awhile. My friend there notified me that the need persists and that they have recently had contact with brothers and sisters in a region of the country that are still suffering great need from the tribal conflict that erupted last December. He said there was an immediate need for $3000.00 US to help with emergency relief for food, bedding and shelter. I assured him I would make this need available to those who frequent these pages.
To date we've given almost $18,000.00 to help and have been really blessed by the generous and thankful spirit of those who have been on the receiving end of those gifts. I am simply putting the call out there again for any who would like to pray for them or send money to help with this great need. Every dime sent to us will go directly to those who need it. Nothing will be taken out for administration on this end or that one. If God puts it on your heart to send something, please go to our Invoice Page and click on the 'Pay Invoice' button. You can then list "Donation for Kenya" and the amount you'd like to give. If you use the 'Donation' button you will need to also send me an email letting me know you wanted this to go for Kenya and not for Lifestream. All donations to this cause are tax deductible.
Or, if you prefer, you can also send a check to Lifestream • 7228 University Dr. • Moorpark, CA 93021.
Thank you for giving this need your time and attention and I'm sure the brothers and sisters there would also appreciate your prayers. May God make himself known in extraordinary ways in the ongoing frustration of human survival. May he demonstrate his glory in great tragedy and open doors to people's hearts to see his grace and mercy.