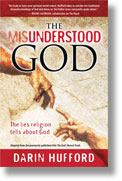 What if you took God's claim of being love itself (I John 4:16) and held him to his own definition of love (I Corinthians 13)? Fireworks, that's what! You might find out that the God you've come to believe in isn't love at all.
But he is! That's what Darin Hufford discovers in his new book, The Misunderstood God that has just been released by the publishing company I helped get started, WindblownMedia book. This is a complete re-crafting of an earlier book Darin had written called The God's Honest Truth. Though I enjoyed the content of the original book, I didn't think it was put together in the best way to reach all the people that would be touched by reading it.
Over the last year we helped Darin take that book a part and rebuild it in a way that more people could benefit from its powerful message. In humorous and compelling stories, Darin shows how religion has disfigured the God of the Bible, giving him a personality that has more in common with the devil, than it does the Father of all love. He holds God to his own definition of love in I Corinthians 13 to show us that he is the very definition of love itself and as we come to appreciate that, we'll find greater grace and freedom to live in his life.
I'm excited to see this book take fresh wing. If you have a heart to understand God's essential nature, you might check out this book. It could transform how you view God and how you recognize his fingerprints in your life. And if you want to hear Darin talk about his own book, give a listen to the two recent podcasts we did with Darin at The God Journey: