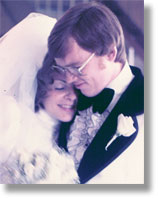 I am finishing up today in the south of France. Tomorrow I'm taking a train from Narbonne to Paris, to meet Sara who will be arriving from the States. We will be catching another train to go out and spend some time in Angers with some brothers and sisters who invited us to come. After four days in Angers, we will return to Paris for some private holiday time before we head over to Ireland and gather with some dear friends there.
Yesterday, Joni posted a comment on my previous blog that posed a question I thought many others would like to hear an answer to. So, Joni, I've taken the liberty of reposting our comment here, and adding my response at the end.
Love your transparency as always. Are you guys working on a marriage book together? Thought I heard that somewhere sometime in the past. Must be sweet to be so loved by Papa. This is what pastoring looks like, sharing the struggle of the journey is so helpful. I know in my own marriage as we age I am really seeing with more clarity why the marriage metaphor is the one He chose to reflect our relationship with Him. Between my marriage and parenting He really teaches me well and loves me beyond my wildest imagination. I hope you get hit with a little Cupid in Paris Wayne and find a little romance with Sara in the city. Thank you so much for keeping it real with us.
I don't know that I believe in this Cupid guy, but we are looking for a whole lot more than a little romance in Paris. It is Sara's favorite city and this time is God's gift to her.
To answer your question, however, we're still working on the MARRIAGE together! Once we get that sorted out, we'll think about a book. 😉
Seriously, though, we've talked about doing a book for some time on this topic, and have begun to collect and organize what God has shown us over the years. But then we go through a yet another season of God peeling off a layer of the onion, and our relationship shifts yet again to a much deeper reality. So, we're never sure when we're actually going to be able to write it—that we're deep enough into this journey, especially when we're writing on the joys of life-long loving. Ideally, I guess we would finish the book the day before one of us passes away! That would take an immense sense of timing, and by then the end of the age may be upon us and the book would be irrelevant anyway.
So, yes, we are working on a book, but I have no idea when we'll be able to release it. We wouldn't have wanted to have finished it last year, with what's going on now. This is the BEST part of our journey together and we are learning the best lessons that in many ways are the culmination of so many things we have only seen in part before. I am so excited about what he is doing in us at the moment and know it will be an important part of the story for others in time.
So, we will have to see when and if we actually get the book done! As with most things I want to write about these days, the living of the reality in his work is so much more profound, then trying to describe it for others. I trust the Spirit will nudge us on the day he wants us to actually finish writing this book if it is on his heart.