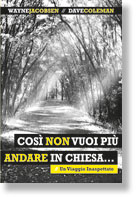 I just found out my book, So You Don't Want to Go to Church Anymore, is about to release in Italian. Imagine that! Maybe it will find its way into the Vatican! Wouldn't that be fun. Maybe it should be called So You Don't Want to Go to the Cathedral Anymore! That's the book cover at left.
I'm at LAX headed for France today and a weekend with people in the southern end of the country. As excited as I am about spending some time with some good friends of mine and meeting some new people, it was tougher leaving home today than any other trip has been. Sara and I have just had two of the most glorious two weeks together sorting out this new stage in our journey. Fortunately she joins me in a few days and as part of this trip we'll be taking some time away just for us. I'm really looking forward to that, as is she.
We may talk in more detail about what's going on in us up the road. I'm sorry to have frustrated some of you by being so nonspecific and I know more than a few of you have jumped to conclusions that were not accurate. What we are discovering are not the obvious things people worry about from childhood traumas, but it is allowing a new part of Sara to emerge and we are already enjoying the firstfruits of what this means in our love for each other. While we still have some miles to go together in letting Father shape all that he wants to in this season, it would be an understatement to say we are both excited about the Father's work here. We thought we had an amazing relationship before, and in many ways we did. But now we're finding some new places in each other's hearts to explore together and I find myself both overjoyed and shocked that after 37 years of marriage there are still new places to discover. Who would have thought?
I'm so glad our marriage has never been static. We've never just settled in to a pattern of living that just allows us to coexist together. We've managed to stay on a journey with God that helps us keep expanding as individuals, and which has, in turn, meant we've had to keep expanding in our hearts to make room for the other. I'm blessed Sara keeps doing that for me, and I keep wanting to for her.
All told, this has truly been a joy. Yes it was birthed in some pain and confusion, since it caught us both off-guard. But as Sara said the other day, it feels like everything is new. And it does, which is hard to explain after all the time we've been together and all the joys we've already shared. We're both glad the journey continues, that God's grace is limitless, and that love can keep growing with each passing day.
So I'll count the days until she joins me… Thanks for all the love and prayers so many of you expressed for us. Please know that we are at rest in the Lord's working and grateful for all that has unfolded in recent weeks.