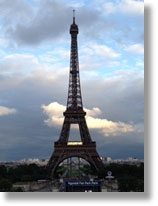 Et ce matin, nous disons au revoir à la France aime! (And so, this morning, we bid a fond farewell to France.)
I have been here two weeks, and Sara for one. We have had an extraordinary time at every place we stopped along the way. It has seemed so long ago since my first top in Boeil-Bezing, then to Azille, Angers, and finally to Paris, but there were so many delightful conversations and people to meet along the way. I am so blessed to get to meet the people I meet and see how God is stirring people all over the world to live beyond the emptiness of religious obligation and find a true relationship with the Father by the help of Jesus.
Then Sara and I had three of the most amazing days together in Paris. Though big cities are not my thing, being with Sara is. There's so much we got to explore about Paris that we missed on our first trip here fourteen years ago, and so much more we got to explore about each other at this stage of the journey as we walked the streets of Paris, or the gardens of Versailles. What an awesome "retreat" we got to have, just the two of us. I love so much the person Sara has been, the person she is, and the person God is still making her to be.
And now we are off to County Wicklow, south of Dublin in Ireland. We have dear, dear friends there who have walked alongside us for many years now and have seen us through more than a few highs and lows. Others are coming in from elsewhere in Europe for some discussions together. We'll also meet some new brothers and sisters here who wanted to connect while we're passing through. And I love that God continues to invite the two of us more deeply into this adventure together.
So, it's set up the ol' marquee in the field, light the barbie (Oh, I guess that's Australia), and let's see how this Jesus is revealing himself around the world.