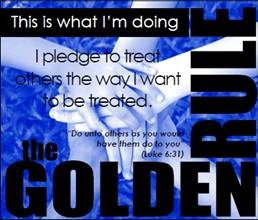 It is so simple. It crosses theological, ethnic and cultural lines. Just treat others the way you want to be treated. Whether or not they treat you that way in return, really isn't the issue. This comes up today because of some recent conflict on The God Journey forum. It always disheartens me that people come to forums to make their case by being obnoxious, falsely accusing others by ascribing thoughts or motives, or simply maligning people who disagree with them. I've had to remind some people that the key to getting along with everyone else is to simply treat others the way you want to be treated.
This also comes up because many public school students will observe a Day of Silence as a means to protest harassment and discrimination based on sexual orientation or gender identity. It has been going on for almost a decade and many parents who are against 'the gay agenda' feel the need to keep their kids home that day, or participate in a Day of Truth that makes sure everyone in their district knows they consider homosexuality to be immoral. Is this the way Jesus would respond.
Perhaps a better way to encourage faith-based students to respond would be to adopt the Golden Rule Pledge. "I pledge to treat others the way I want to be treated." It allows a pro-active response to sharing the burden to increase mutual respect for all, regardless of our differing points of view. While some of it is a little 'religiously' with having to quote a Scripture to justify their actions, I appreciate the sentiment.
Dr. Throckmorton, Professor of Psychology at Grove City College and organizer of the pledge says, "There can no doubt that GLBT students and peers as well as other who appear different have been the target of harassment, bullying and violence. We believe Christians should stand with a loud voice to oppose this."
"Participation in the Golden Rule Pledge helps to demonstrates Christian respect and concern and builds bridges instead of walls," added Michael Frey, his associate and Western Pennsylvania Regional Director of Campus Ministries for Campus Crusade for Christ.
The Golden Rule Pledge may also be conducted in schools where the Day of Silence is not being observed. For more information you can see their websiteThe Golden Rule dot com, or link up with them on Facebook.
Beyond the program, however, this is the way Jesus asked us to live. You don't need to throw a Scripture in their face to do it. All you have to do is live differently and it will speak volumes!