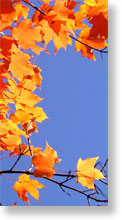 I just got back from a weekend in the Quad Cities of Iowa as the fall foliage was just beginning to burst out. Since we don't have fall here in southern California I especially enjoyed the show and the cool, crisp air. Even more amazing was what God allowed us to share in those few days together. A group of believers there have been sharing life together in their homes for a couple of years and invited me to spend the weekend with them. Though I'd never met any of them before I felt like family instantly.
Father had led us on similar paths and it was great to share the lessons of the journey together as we got to know each other. And then God sent some other folks to join us. It started out with a neighbor from a home nearby who came to check out what was going on. Though his family had been deeply involved in a local congregation, they had been having second thoughts about that. God had been opening their hearts with a greater hunger to find a more enduring life in him. He was full of questions. The next day he came back and brought eight other friends with him. They had all been struggling with the same issues. The next day they brought even more.
We got to talk in some depth about this amazing life in Christ and how our institutions can so easily distract our eyes from the simplicity and freedom of knowing him and burden us down with activities, obligations and guilt. In just a few days it was amazing to see how much freedom Jesus worked in them and how visible it was in the countenance, voices and the way they related to each other. I have no idea what they'll end up doing, but I think they see the way a bit more clearly and will be freer to sense Jesus' voice and follow him however he will lead them.
On the last night one of the brothers from the initial group who had invited me told me he had been focused on the wrong thing. "I have been trying to sell house church, but not any more." Somehow the weekend had freshly ignited his heart for Jesus and the desire to help others follow him, not get caught up in another system to add to all the other systems people have created. When I got home, I found this note from another brother who is part of that community:
Wow, Wayne! God has really blown me away over the last few days. I feel like I am in the hands of a loving Father who has bigger and better ideas for me than I ever even dreamed for myself. I am standing in awe of how he worked this weekend. Thanks you for helping me see that no matter the situation, I can crawl up into Daddy's lap and that it is the safest place in the world to be.
I was really taken by what was said in the fellowship about what Jesus is. Jesus does not just have mercy for me, but he is mercy. He does not just have love for me, but he is love. He does not just give me righteousness, but instead is righteousness. He does not just give me life, but instead he is life. I no longer need to ask for these gifts, because he is the gift. All I need to do is turn to and accept him as my all in all. What an incredible concept! This is a huge shift in my paradigm.
I know that you feel that the main reason you were here in the Quad Cities was because of the group that are getting ready to break free from institutionalism. I would not disagree with that, but I know how much the Father has blessed the rest of us through you. I am so grateful that you felt the leading from Father to come and share what I believe to be on his heart for us. Wayne, this fruit will last. This fruit will multiply. You did not just bring us gifts from the Father. Instead, you were the gift.
It's easy for people on at times like this to get mixed up between what I am doing there and what Father is doing while I'm there, but what greater fruit could we ever expect from our life together as his children? If it draws our hearts to him, encourages us to walk in greater freedom and joy, and opens our lives to help others on this incredible journey, then it is body life indeed!