It is always hard for me to use this space to ask for money to help the brothers and sisters in Kenya. I figure most folks are getting Kenya fatigue, and if you are, please feel free to not read any further. But then someone I meet will ask me about the orphans in Kenya and I am reminded that some of you carry these people on your hearts even though you've never been there and never met them as I have. That just sends me into moments of joy knowing we are not alone here.
The gas station is taking shape in Kenya. We have already received almost $10,000.00 of the $72,000 we need to give the Kenyans a way to provide for the orphanage themselves. Thank you for all those who have helped. Much of that came in the form of very small gifts that piled up rapidly. Thanks to all who are helping with this.
The brothers and sisters in Kenya are excited about this endeavor and overwhelmed with gratitude that so many of you would stand by them with this project. We've already sent our first installment to them and they are hard at work. The profits of this station will provide enough to house, feed, clothe, and educate those children.
I received this over the weekend from Michael:
Greetings in Jesus name, I would like to appreciate so much for the support of Living Loved Enterprise, the first money you send have helped us to pay for the ordered products and the down payment of the land, really, Brother, we do appreciate. I even have run out of words, but just to thank God through you for the great support that we received.
We are arranging now for the further progress of the project as I told you in previous mail. If God provides we can complete for land payment, installation of the machine, and landscaping together with construction of the site.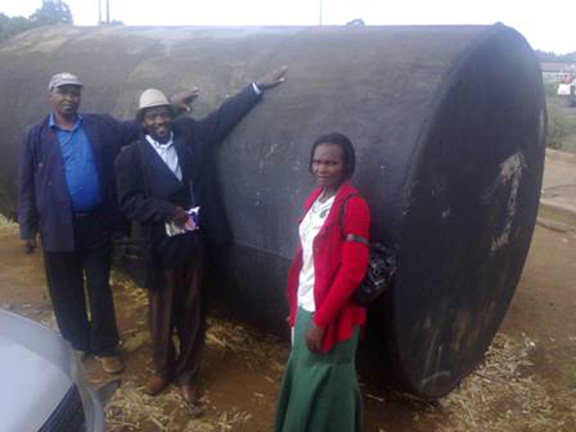 Michael and his wife take delivery of the dual storage tank.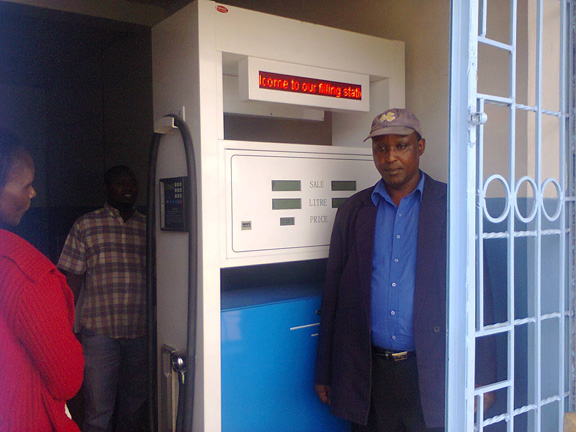 The new pumps have arrived
This amount needs to come in quickly as this land is being developed, so if you feel called to help us support these children with this enterprise, or help with our monthly support until it is completed, we and they would be grateful. If you want to know more about this project or the AIDs recovery home we also support in South Africa, you can see our Sharing With the World page at Lifestream. You can either donate with a credit card there, or you can mail a check to Lifestream Ministries • 1560 Newbury Rd, Ste 1 #313 • Newbury Park, CA 91320. Or if you prefer, we can take your donation over the phone at (805) 498-7774.