The team has just arrived back in Kitale from a visit to West Pokot and finalizing arrangements to open the dispensary. As you know we've been heavily involved in this area since ouf friends there discovered 120,000 people starving from drought and dying from disease in a region of the country that is beyond government assistance and NGO help. We sent $62,000 initially to help with immediate food, water, and medical needs. We then added another $65,000 to build school rooms and a dispensary in the region and put in four wells at a cost of over $30,000 per well. In the last month we sent an additional $140,000 to create an enterprise that will help feed the area and whose profits will be able to pick up the shortfall at the orphanage, due to lower than expected petrol sales, and also cover expenses at the schools in West Pokot.
Our friends in Kitale have worked incredibly hard to bless their brothers and sisters to the north and none of this money has benefited them at all. Even though their needs are great, they have shared it all with those in worse shape in North Pokot. In fact they have been the volunteers that have gone up into the region to do the hard work to bring these projects to fruition.
In theThis outpouring of generosity has also opened this entire region to the Gospel. Since prayers for the ancestors failed them they are hungrily learning about Jesus and the life he offers.
The team yesterday received approval from the Ministry of Health to open the dispensary and begin delivering medical care to people who have absolutely none available. We had hoped the government would pick up the costs of medicines in that region or another NGO, but so far no one has stepped up. They need $32,500 to equip the dispensary and that's using volunteer doctors and nurses to care for the patients. They have been able to do some care as the pictures below will show, but they don't have the medicines they need. I did not promise them when they wanted to build a dispensary or now that we would take responsibility to provide medicine for that region. We have sent almost $400,000 into that region in the last six months just from the friends I have through Lifestream and The God Journey. I'm sure everyone is getting a bit fatigued with the ongoing needs in Kenya. I'll admit that I am so I am only going to make it available in case people have it on their heart to provide this medicine. As always, Lifestream takes nothing out of the contributions given for any expenses, and in fact we have covered out of our own provision the shortfalls in each of these campaigns.
So, what do you think? If God has put it on your heart to help with these needs, you can direct it through Lifestream. Contributions are tax-deductible in the US. As always, every dollar you send goes to the need in Kenya. We do not (nor do they) take out any administrative or money transfer fees. If you would like to be part of this to support these brothers and sisters and see the gospel grow in this part of Africa, please see our Sharing With the World page. You can either donate with a credit card there, or you can mail a check to Lifestream Ministries • 1560 Newbury Rd Ste 1 • Newbury Park, CA 91320. Or if you prefer, we can take your donation over the phone at (805) 498-7774.
Here is some of what's going on at the dispensary now: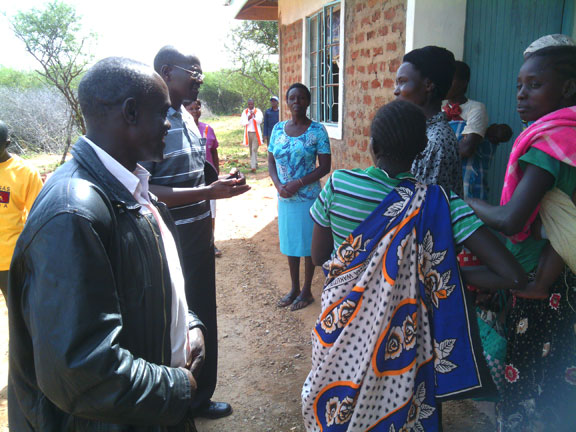 The Minister of Health is greeted by the locals as arrives to inspect the dispensary.
People waiting for services at the dispensary, or for those getting care.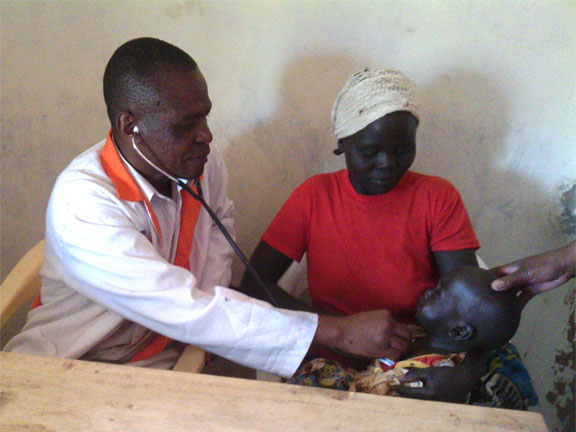 A doctor helping a young patient
Thanks for your thoughts, prayers, and gifts on their behalf. They are overwhelmed with gratitude every time I hear from them, and so am I.