For those of you concerned about the process for getting my new book out, Finding Church is at the printers now and we working on getting e-books made and available. We are ramping up for our October 15 release date at it looks like everything is coming together to make that a reliable date. Having lived inside this book for the past twenty years, and writing it over the past twelve months, I'm very excited to get this out and am hopeful it will inspire a conversation among a vast spectrum of people who want to see the church of Jesus' new creation as a relational reality, rather than an institution we are meant to build and maintain on his behalf.
I am enjoying the feedback I'm getting on this book from those who have had a chance for an advance reading. It assures me that the points I hoped to make are being made, and that people are finding a different way to view and participate in the church Jesus is building. Believe it or not, the first review for Finding Church came out yesterday. Yes, it is a bit early, but for those interested the book is now available for pre-order at Lifestream and at Amazon. I'll post links to e-books when they become available. All that will release on October 15.
We are also developing a new website at FindingChurch.com, that we hope to open next week with an advance peak at the first five chapters in a PDF download. I'll announce that here when we do. All this is taking a lot of time, which is why I'm not posting too many blogs yet. But don't worry, I have a backlog of things I want to share with you in my blog.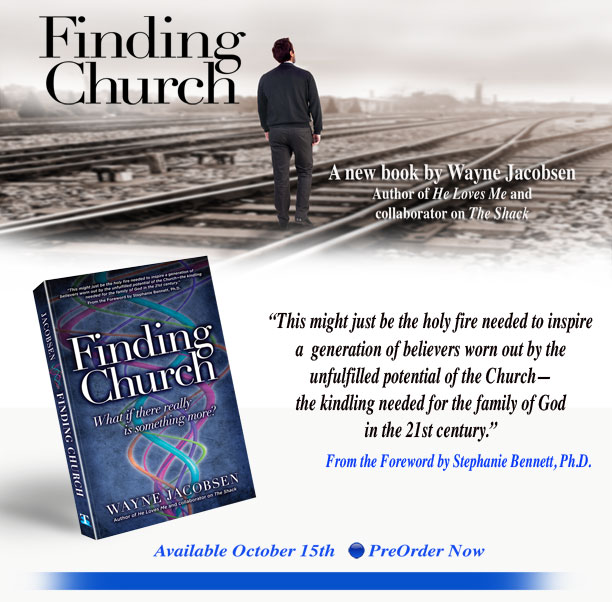 Here are some other things people are saying about Finding Church:
There is no slow bleed; the mass exodus from local congregations is a stubborn fact. So why is Wayne Jacobsen so hopeful? Because dispersion and isolation need not be the endgame. Jacobsen is finding church—the fully functioning family of Christ that transcends institutions—networking everywhere. I would especially invite Jesus-loving ex-churchgoers to borrow his eyes so they might share his hope.

BRAD JERSAK, Ph.D., author of Can You Hear Me?
Abbotsford, BC

Finding Church is a riveting and challenging read that prompts its readers to seriously reconsider the definition of church. With courage and compassion, Jacobsen states what millions of Christians intuitively know but can't admit, while sharing his passion for a church that every believer craves.

DEREK WILDER, author of Freedom
Life Transforming Group, Andersonville, IN

For that endless stream of people I meet who love God but either cannot bring themselves to re-enter the institutional church world or who are feeling great pain from abuses they cannot understand at the hands of leaders who subverted what we call church, Wayne Jacobsen's book will be a great encouragement. Without overlaying a new structure, he reminds us that living for and with God is far simpler than we ever imagined and that God still knows our address. Rare is the invitation to relax in God's love and love others, and it is enough.

GAYLE ERWIN, author of The Jesus Style
Cathedral City, CA

In Finding Church, my friend Wayne Jacobsen offers Christ's way to a home for those who have searched for it congregation to congregation all their lives. The answers he offers come long after he has learned to live it and they are as free and freeing as the Gospel itself!

JOHN LYNCH, co-author of Bo's Café and The Cure
Scottsdale, AZ