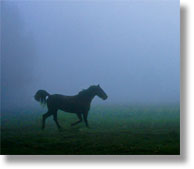 Some of the people I met at the conference in Dallas recently wrote me an email last week. They have recently left a more traditional structure and are involved with a group of people desiring to experience more relational body life. In the email they shared an interesting observation that gets to the crux of how we participate in the unfolding work of God in the world:
We are trained professionally to plan, organize, strategize, evaluate, implement, and re-evaluate, but we have been learning through various experiences that when we rest in Him, He generally brings forth something miraculous. When we let something die, He brings new life. It's humbling and freeing, all at the same time.
I think the challenge for those of us who have been so trained is to learn how not to grab hold of Jesus' working around us and try to control it. Real elders in this family help facilitate what he is doing rather than trying to shape it to their liking as many people will press them to do. It is fine line to be sure, but when we live loved there is nothing in us that wants to control Jesus' work or his gifts. However, where we live in our fears there is all kinds of internal and external pressure to do so.
The essence of the new covenant is that we cease from our labors and live in his unfolding purpose and work. That's what Hebrews 3 and 4 are all about. I find that that it does not take less wisdom or work to do so; it's just a different kind of work. It is much harder to live in the moment and respond to what Father does than it is to strike out with our own best wisdom and best efforts when we're driven by the fear that he is not doing anything, or at least isn't doing what we want him to do.
The latter leads to exhaustion and only shallow fruitfulness and actually takes us down side trails where it is easy to lose sight of what he's doing and our prayers beg him to bless what we are doing in his name. Responding to his work in each moment will not only lead to enduring fruitfulness and fulfillment, it will also keep us in the frame of heart that makes it easier to see and follow him.
The freedom in following Jesus comes from no longer trying to get him to do what we want, but to revel in his desires and his working.