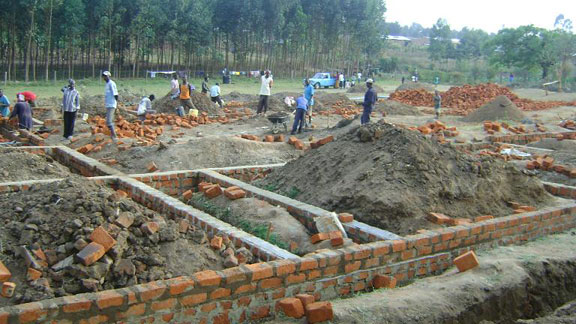 The walls begin to rise from the foundation.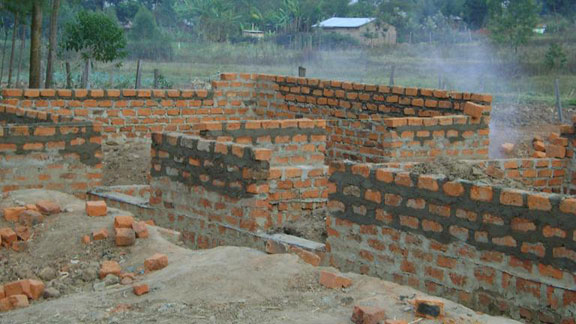 The work continues and many of the workers are volunteers.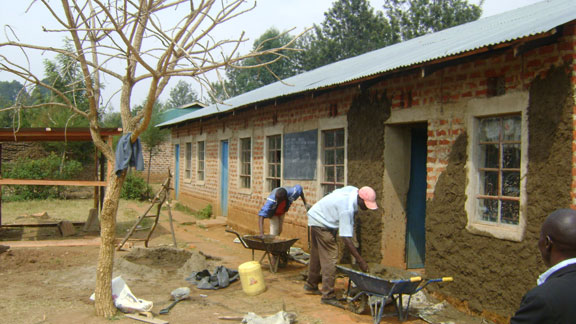 This is not part of the new construction, but some of the refurbishment of the existing buildings.
New pictures have arrived from Kenya. I can't begin to describe the overwhelming gratefulness that fills my heart looking at these pictures, knowing that so many people from all over the world have generously participated to help provide this setting for a group of children living in a slum in Eldoret. That has combined with the spirited work of the Kenyan people make their dream a reality. Last week we were able to send an additional $20,000.00 to help buy the materials and pay the workers to complete the construction.
To date we have sent $73,000.00 to buy the land and help refurbish it. We're not sure how much more will be needed at this point because of the fluctuating prices of building materials, but we are hopefully getting close. We also wanted to provide two years of salary for the orphanage staff to make time for them to find a way to cover those costs in the future. Our desire has been to help them see Father as their provider and not allow our help to become a source of dependence on the West. That has been their desire as well.
I just received this from our contact there:
The honor and glory let it return to God and we give Him all glory and the honor for His name and His love endure forever. We stand before Him through His grace and love which He selected us that we might become blameless before Him. About living Loved Christ Hope Care Centre the work has started some days ago and people are working tirelessly. We have even our brothers and sisters here volunteering just only getting lunch so that this work may be completed quick as possible before the rain starts So this work must be completed in one month.

Thank you very much, we withdraw the whole money and we have managed to buy the materials and handed over to the contractor to pay out for other workers. The price changed a little for a metal pass for foundation and for the timber, which increased the price due to transportation the fuel and concrete as gone up triple, but the other things the price has remain the same. Sorry for this unexpected a raising issue. We are having hope that the children will get in soon as possible. We shall be giving you the updates for every step, Sammy is working with the team while I am out for moment. Also I have tried to put a side other things so that we may work for this orphanage until it may be completed.

Another idea the is our neighbor around the orphanage who came the time we were building, he has ten acres of land and he wanted to lease for anybody who may desire for three years, then the contract will be renewed. One acre he lease for 6,000 Ksh ($74) so ten acres is 60,000 Kshs ($740) times three is 18,000Ksh ($220). I didn't promise him but I told him that we are going to pray and share with you about this issue. The land is very good and fertile for growing maize and beans for the orphanage.
Thanks to all of you who continue to participate here. We've been amazed at how early and graciously people have wanted to be included in this endeavor.
For more information on our project here, you can read this earlier blog. If you would like to be part of this to support these brothers and sisters and see the Gospel grow in this part of Africa, please see our Sharing With the World page at Lifestream. You can either donate with a credit card there, or you can mail a check to Lifestream Ministries • 1560-1 Newbury Rd #313 • Newbury Park, CA 91320. Or if you prefer, we can take your donation over the phone at (805) 498-7774.