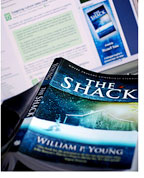 A letter we got last week about THE SHACK, said this: "(Your book) took me places I really did not want to go; but having made the journey, would not have missed it for the world." What a great observation!
Doesn't that describe the ways in which Father works. Follow your own agenda and desires and you end up shipwrecked in the consequences of your own selfish independence. Follow Father, even though it's scary and uncertain, and you'll end up smack dab in the middle of his life in situations beyond your wildest considerations! That expresses so well the last decade and a half of my life. God has put me in places I'd never choose to go, and then in the middle of it, he just overwhelms you with the wonder of himself!
Specifically that's been true of this marvelous story called THE SHACK. I know some of you are probably tired of hearing about this book, but others have been praying with us about this over the past two years and are interested in the back story of this increasing tsunami! It is the craziest story I've ever been part of and now starting to draw some major attention. As many of you know this little book appeared in my inbox nearly three years ago. I loved it when I read it and encouraged the author to get it into print.
The author, Paul Young, didn't want to do much with it. He'd written it for his kids and thought he'd share it with a few friends. But myself and others saw something in this story that begged to touch the world. Brad, my God Journey co-host, and I helped Paul ready the book for publication and I took it to a number of publishers with whom I've had working relationships. All turned it down for reasons I could not understand—until yesterday! In an exchange with a publisher on an unrelated matter, THE SHACK came up. This editor had been one of those to whom I'd submitted THE SHACK for publication. They had passed on it, and this was her explanation:
It's tough to talk publishers into doing something unusual. I call it the Catch 22 of publishing. If somebody has done something like it, then we can't do it. If nobody has done something like it, then we can't do it. I'm speaking not just of of our house… but every house I know. Sometimes it takes the people closest to the project to launch it.
That explains a lot about the lack of creativity in Christian publishing today and why it has been so frustrating over the years to get them to think outside the box. Finally, as many of you know, Brad and I formed a publishing company,Windblown Media, and printed THE SHACK last May. What began as slow, lapping waves on the shore is now swelling into a rising tsunami. Here's how one of the top media consultants in Christian publishing recently wrote this to Publisher's Weekly:
I'm not sure if The Shack by William Paul Young is on your radar yet or not. It's becoming an independent press (Windblown Media) runaway best-seller. Here's the scoop:

Windblown did a soft-launch on May 1, 2007 just on their company website. They sold 10,000 (paperback) just on their website from May 1 to the end of August. It wasn't on Amazon or in stores unless stores heard of the book from readers and ordered it through their site.

September 1st they hard launched at retail via Ingram for national distribution. They sold 22,000 copies from Sept 1 to the end of the first week of November. They just took delivery of a 50,000 third printing, and in two weeks have sold over 20,000 of that print run including orders for over 7,000 copies just yesterday.

They've ordered an immediate 4th printing of 25,000 to get them through Christmas. Windblown is also now launching the hardcover edition with a small 3,500 print run, available now for Christmas sales.

The cool news: They've spent only $200 on marketing. The rest is all word of mouth.
But there's more. I got this report from my partner Brad today, who is the President of Windblown and the one behind order fulfillment:
As of December THE SHACK has jumped up to #19 of ALL books being sold at Ingram. We just beat out I AM LEGEND—that has $$millions of dollars ramping up their marketing machine. We're just 5-6 steps down from THE SECRET, which was last year's word of mouth phenomenon. There's maybe only 4-5 paperback in the whole top 25—most Everything else is hardcovers.
Just today we sold over 12,000 books with new orders from major bookstore chains, who want to display it prominently on their front tables. One buyer asked us about our advertising campaign behind the book. We laughed. We can't keep up with sales now, why would we advertise? Daily we hear from people who feel their spiritual lives have been rescued from anger, doubt and frustration toward God and renewed a relationship of love with him. We're hearing from celebrities who love this book and are endorsing it to their fans. We're hearing from theologians of every stripe, some who want to use the book in seminary classes on God and suffering. We've also been contacted by major movie studios about purchasing the movie rights. We're not selling those, by the way. The dream from the beginning was to make this into a general-release feature film that would offer our culture a view of God that religion has totally obscured. It looks like now we'll get that chance.
And we hear from authors who want to work with Windblown Media or those who want to know the 'secret of our publishing success.' We laugh. There is no secret. We did everything wrong with this book. We were just three brothers that wanted to take something we considered a gift from the heart of our Father and make it available to folks . The power of the story itself has swept people up with it. After reading it, many order cases to give to friends. So many people have blogged about it, and recommended it to their friends, that it just keeps growing by word of mouth.
It is all just beyond us to comprehend, and almost beyond us to keep up with it. To all those who have prayed with us, and helped pass it along, please know how deeply grateful we are for your participation in this process.
i know this is long, but it's a story we wanted to tell. Remember the top-tier media consultant I referred to earlier, he wrote us a note last week that blew me away:
"Not by might or by power, but by my Spirit says the Lord."
You may see this only once or twice in your lifetime.
It is unique, in the full sense of that word.
When I read that, I sat back overwhelmed. It's true, you know. You couldn't orchestrate something like this if you tried. And tere are hundreds of multi-million dollar publishers who try every year to do just that with all their demographic surveys and business expertise. This is not our deal. This is God's gift. We've simply been asked to be it's steward—keeping the message clear, the story available and our hands open before him. Which is what we're trying to do!
When the idea of publishing this book ourselves came up, I was the one most dead-set against it. We'll never be able to do it justice, I thought, and there were so many things we didn't know about getting this book out there. Trying to find the time, the energy and the resources to do it, just wasn't in my thinking. But one small, gentle step at a time, Father took me places I didn't want to go.
And now, I wouldn't trade it for the world!