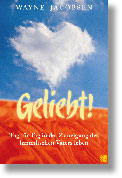 Later today I'll head off to the airport for a flight to Germany where I will spend the next three weeks wandering through Germany and into Switzerland to spend time with brothers and sisters on this marvelous journey. So You Don't Want to Go to Church Anymore was released last year in German, and He Loves Me will be released this summer as Loved! (Pictured at left.)
It will take me longer to respond to email on a trip like this, because I neither have control of when i can access email, or when I have time to respond to it. I apologize for any inconvenience that causes.
Here is my schedule for that tour:
June 6-8: weekend with group in Lengerich, Germany
June 9-10: evening(s) with group(s) near Hannover, Germany
June 11-12: meeting(s) in Nuremberg, Germany
June 13: meeting in Karlsruhe, Germany
June 14: meeting near Stuttgart, Germany
June 15: group in Bonn, Germany
June 16-17: group near Kaiserslautern, Germany
June 18-19: near Zurich, Switzerland
June 20-25: Geneva, Switzerland
Keep me in prayer will you? Sara will be joining me part way through the trip as she finishes up here school term here at home.