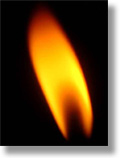 "After reading your email the Spirit of God came over me with a joy and freedom that I've never had. Please keep up the good work because you are getting through." That response came a week or two ago after a recent exchange with a man who was concerned about what it meant to be lukewarm. Since I do get the question from time to time, I thought I'd share my answer here in case it might help others.
Here's his question:
I need to overcome a hurdle so I can let God do a deeper work in me. Can you please shed some light here? In HE LOVES ME you say, no matter how much we try to earn his favor, we will always fall short.

I love that phrase but for years I've been hearing in the book of the Revelation it says that there is a warning to Christians about being lukewarm or cold or God will spit us out of his mouth. If that's true then I am really confused about not being enough. How do we rest and get by this, it seems like a contradiction to freedom? I don't really understand the whole book of revelation. Could you please shed some light on this?
Before I do, let me make an observation about reading the Bible. I think it's important to live in the parts we understand, rather than being swallowed up by those parts we don't understand. Walking in the light means walking in what he's revealed to me, not worrying about whether or not he's going to hold something against me that I don't understand.
Now to your question. Your fear assumes this: Being cold must mean we're not following Jesus, being lukewarm means we're falling short in some behavior, and being hot is performing well to some "Christian" standard. I don't think that's true at all.
The context makes it clear that a cold person is one that has no heart for Jesus. The lukewarm are those religious people who talk about Jesus all the time but are not learning how to live in his love and follow him. Their journey is mere lipservice and their character is one of arrogance an anger, rather than the fruits of the spirit. The hot are those who are passionate for Jesus and are learning to live in his love. None of this has to do with performance, but passion. And the reason why Jesus would rather have us cold than lukewarm, is because at least those who are cold are not pretending. Those who are lukewarm think they have a relationship they don't have. They think themselves spiritual, when in fact it is only a pretense. They do lots of religious things, but they aren't coming to know him and be transformed by him.
How do we know that? Because Jesus already told us that apart from him we can do nothing (John 15), and Paul testified that any confidence in our own flesh will detract us from a vibrant relationship with him (Philippians 3). Life in him is not about human performance, but divine transformation that is the fruit of a growing relationship with him. You can be hot after him even if he's only begun to set you free.
So, relax. It's never about performance, it's about passion to know his love and live in it… With that kind of heart, Jesus can have his way in us.