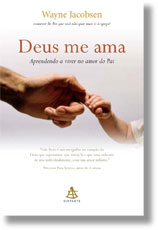 I am off to Mississippi in the morning after I drop off our guests to take a flight home to Switzerland. I've never been in Mississippi before, so this is a first. And I have good news before I go, especially if you speak Portuguese.
Editoria Sextant, who already publishes The Shack and So You Don't Want to Go to Church Anymore for the Brazilian Portuguese-speaking market, has just released He Loves Me: Learning to Live in the Father's Affection in Portuguese. I heard about it when a friend in Brazil saw it in a bookstore yesterday. It was supposed to be out in June, but made it to the stores early.
When I was in Brazil last December meeting with people who had already read So You Don't Want to Go To Church Anymore, they were anxiously awaiting the release of this other title. I'm so glad now they will have all three books in Portuguese and pray that many people will find them helpful in learning to live loved by the Father and live in love toward others. There is a great hunger there to learn about the Father's love, especially about what really happened at the cross. He Loves Me explains that better than the others.
I also really love the cover design. I don't often feel that way about foreign editions, but I think the publisher there came up with an excellent depiction, even suggesting Da Vinci's famous painting in the Sistine Chapel.
And please don't call our office for copies. We don't have any here. They need to be purchased at a book store in Brazil or directly through the publisher.