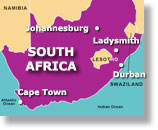 Sara and I are off to South Africa for a two week tour that will take us from Johannesburg through to Cape Town. After two days in the Pretoria/Johannesburg area, I will be doing a retreat near Ladysmith, a relational church gathering in Pietermaritzburg, helping an HIV/AIDs outreach in the township of Ntuzuma, teaching an AIDS Outreach Workers school at a YWAM base in Durban, and then finishing in Cape Town with some media interviews and gatherings with brothers and sisters ont he journey. We are looking forward to our time with many people we have met before and some we've only corresponded with by email.
Thus, our offices will be closed from October 20 through November 3. We will have someone coming by to fill out orders for those who order via PayPal. We will also try to monitor phone messages as best we can, but we probably won't return any until November 4. I'm sorry for any complication that causes you, but we're just a couple of people trying to help others on this journey as best we can. Our Internet access and time to spend dealing with email will be severely limited during this time. If you can at all wait until we return to send us email, it will be much appreciated. If you send it anyway, please be patient as we try to respond. This is a very intensive trip to spend as much time with various people as we can. Some of my books are just releasing in Afrikaans and The Shack has been going strong in South Africa for over two years in English and was recently released in Afrikaans as well.
If you think of us while we're away, please pray for us and the purposes God wants to unfold in the lives of the people we'll be spending time with. Thanks.