If you haven't followed this blog, over the last nine months, through the generosity of many of you were were able to send over half a million dollars to help rescue over 120,000 tribal people in West Pokot, whose sparse economy had collapsed under the weight of a three-year drought. We were able to bring food, water, and emergency medical care to relieve the most pressing needs last April. We then financed four wells to provide water and built a school and a field clinic to help the people in so desperate a condition. Disease is rampant because they have no toilets or the most rudimentary hygene. We also financed an enterprise whose profits will go to pay the ongoing expenses at the school. A year ago we didn't even know these people existed and we'd never have conceived of trying to raise that much money for anyone. But as the needs continued to unfold, God continued to send us people who had extra to help rescue these people. It has opened a wide door for the Gospel to penetrate these people who had previously only prayed to their ancestors. The reports I get continue to amaze me at all that God did through people who read this blog and listen to my podcast at The God Journey. If you want to read a more detailed report of what has gone there, please click here.
It has been inconceivable to me that such a huge need could exist in our modern world and be so far beyond the reach of any governmental aid, or help from large nonprofit organizations that help feed and drill wells in places of great need. I never thought our little group of people could long continue to manage this need on our own, but government support has been nonexistent and the ongoing need is still causing death and starvation. As God would have it, this week I had a friend visit and stay overnight with us. Traveling with him was an African man who is part of a ministry that develops schools in Africa and this man was the director for that ministry in Rwanda. He was very interested in our Kenya story and what we'd been able to do there for you and what we've done in the past year for the people of West Pokot. First, he couldn't believe that such need would exist among 120,000 people and the government, UN, or NGOs wouldn't be involved to help in such a crisis. But he has a good friend who is well-connected politically in Nairobi and so we placed a call to him and he was able to confirm not only the desperate crisis in Pokot, but also that the government is only now making efforts to create a government presence there and see how these needs can be addressed. He did not know of the work we had done there, but was excited to hear of it. He said he would be willing to travel up there to meet with our representatives and introduce them to government officials who can help spur economic development. This was an amazing answer to prayer. He was just what we needed and he offered to assess the situation and recommend a strategic plan for the future utilizing government services and help from other nonprofit groups.
Both the director from Rwanda and the man in Kenya were able to school us on the problem too much with relief that destroys the existing sharing of food and resources among the people themsevles to help generate a new economy and it can destroy people's initiative and make the dependent on perpetual aid. This has been a concern and prayer of mine all along. We want to help, but we want to help wisely. I was blessed that this man is there and is willing to help the people of Pokot sort out a way to move forward beyond their need. This is an important piece of our puzzle.
What we have already been able to do here through your generosity completely astounds me and I am more grateful than I could ever convey on this blog, as are our brothers and sisters in Kenya. That said, there are some immediate needs for which the Kenyans have asked for our help and I am asking for yours. The two doctors and nurses that staff the dispensary in West Pokot have had no support and may have to leave to go back to help meet their family expenses at home. They are needing about $1800.00 per month for the next three years to keep doctors and nurses on site. The car needed for transportation between Kitale and West Pokot needs some significant repairs due to the difficult road conditions in that part of the country and the dispensary staff needs a motorcycle to get supplies and to get to those who cannot get to the clinic themselves. Total cost for those two is about $10,000. The medical people are also begging for latrines to be built in the communities to stop the proliferation of disease that results from people coming into contact with human waste. These are large facilities that can service hundres of people but cost about $1700 each for the supplies needed to build them. The men are willing to do the labor.
In addition there are many elderly and small children that do not have enough money to get food, which adds to their proclivity toward disease. The need here is about $3800 per month, but at this point we're not sure this is the best way to meet that need. Surely some short-term relief will be needed here, but we also have to help the community care for the neediest among them as well.
These are all huge challenges, and I'm always blessed by the Kenyan people we know in Kitale who are spending of their time and resource to help these impoverished people. If any of these needs interest you and you'd like to underwrite it, please let me know. If you'd like to help with offerings that we can share, that would be great blessing as well. Our best guess now is that we'll be putting about $40,000 into Kenya over the next few months as God provides. If you have extra to pass along for the people of West Pokot you can direct it through Lifestream as contributions are tax-deductible in the US. As always, every dollar you send goes to the need in Kenya. We do not (nor do they) take out any administrative or money transfer fees. If you would like to be part of this to support these brothers and sisters and see the gospel grow in this part of Africa, please see our Sharing With the World page at Lifestream. You can either donate with a credit card there, or you can mail a check to Lifestream Ministries • 1560 Newbury Rd Ste 1 • Newbury Park, CA 91320. Or if you prefer, we can take your donation over the phone at (805) 498-7774.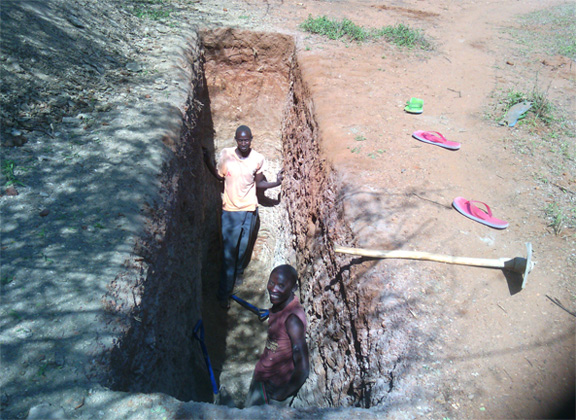 Digging latrines in West Pokot